LeBron James Lifts His Way Into Virtual Reality
Virtually work out with LeBron James in his Oculus film 'Striving for Greatness.'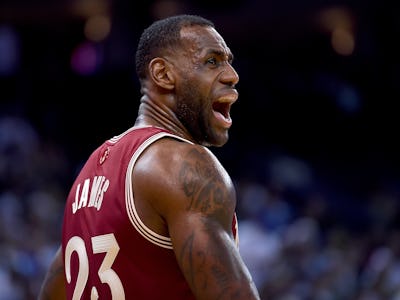 Thearon W. Henderson/Getty Images Sport
Whether virtual or not, it seems like LeBron James is always winning at reality. The b-ball great is turning 31-years-old this week and working on remaining relevant in the world off-court. In a bold and somewhat contradictory move, he's bringing an intense exercise experience to the digital world in a 12-minute virtual reality film, "Striving for Greatness."
The former MVP joined forces with Facebook-owned tech company Oculus to offer this 360-degree, non-interactive experience of the baller's pre-season training. It's a nice way to feel like you've gotten a workout, but really you just watched James break a sweat.
Directed by Canadian cinematic virtual reality creators Félix & Paul Studios, "Striving for Greatness" is an extension of his digital company and video series, "Uninterrupted."
Why would one of the most popular athletes of all time move in this direction? Who really knows how many good years he's got left in the NBA? Maybe he's gearing up for retirement or maybe he's just plugging himself into the future of entertainment.
After seeing James' earnest but awkward performance in this year's Amy Schumer comedy Trainwreck, it didn't seem like the Cavalier would be spending more time in front of the camera off-court. But James is on a mission to take over every aspect of our visual worlds.
Unless you already own a Samsung Gear VR headset, you can only catch a 360-degree clip of the full James experience (above). There's also this excellent commercial set to Public Enemy's "Welcome to the Terrordome" in which James invites us all to "Go to Work" — perhaps a necessary move after a holiday season spent playing with new drones and heavily overeating.