Man Survives Shenzhen Landslide, Found 67 Hours Later
The worker was lodged in a doorway, with workers digging him out mainly by hand.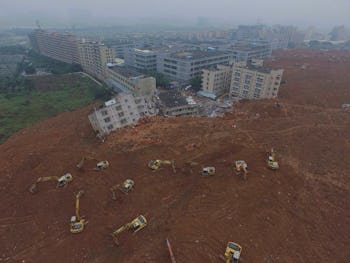 instagram.com/wsj
A worker, trapped under mud and debris for almost three days due to a landslide in Shenzhen, China, was rescued Wednesday, as reported by the Xinhua News agency.
The agency tells that Tian Zeming, 21, of Wushan County in the Chongqing municipality, was found alive 67 hours following the landslide that streamed from a 200-foot-high man-made hill of construction debris and earth into the Hengtaiyu Industrial Park. The Associated Press states that Zeming's foot was trapped in a door while covered under rubble—but the doorway also provided enough space for the man to stay alive.
More than 30 buildings were reported destroyed, and over 90 people are still considered missing, with only one body recovered as of this writing.
Tian is reported to be in stable condition—he is receiving care at Guangming New District Central Hospital—which has announced he is dehydrated and suffering from several skin injuries and bone fractures. Rescuers located Tian under mud and construction waste at approximately 3:30 a.m. (local time), and had to dig to the trapped man mainly by hand.
The South China Morning Post reports the pile that collapsed apparently contained at least a 1,000,000 square meters of waste materials, and was destabilized by heavy rains.
Drone footage captured several views of the destruction.