What and Why Is the Jennifer Lopez and Ray Liotta NBC Cop Show 'Shades of Blue'?
The NBC bad-cop drama, which premieres January 7th, features Jennifer Lopez, Ray Liotta, and Drea de Matteo turning up all the way to 11 in terms of betrayal, Glock-toting, and throwing out rulebooks.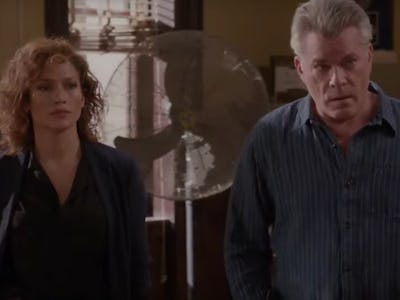 YouTube/NBC
You've seen the ads by now — it feels like you can't avoid them anywhere on Earth. It's come time — as the Big Man Upstairs no doubt preordained it one day would be — for Jennifer Lopez and Ray Liotta to come down from the big screen to television, and tear it up in an overwrought prime-time procedural. He also spake that Drea DeMatteo — best known as beloved tragic figure Adriana La Cerva on The Sopranos and an actress who agreed to be in Sons of Anarchy — should be reborn as a side character in said procedural. Together, the trio would not exalt the primetime cop show, but carry the genre into a new, more savage year, and do it To The Max.
So he — in collaboration with NBC and From Paris With Love/3 Days to Kill co-author and showrunner Adi Hasak — gave us the overbearing ad campaign for Shades of Blue, which is set to premiere in two weeks (Thursday, January 7th).
In the show, Lopez and Liotta are Bad Cops in the archetypal sense, and one of them has the same name as the co-founder of Apple. The preview for Blue even says "Between Good Cop and Bad Cop," the meaning of which I'm sure will be detailed in no uncertain terms across nearly every moment of Shades of Blue's thirteen-episode season. We'll at least learn in episode 8, which is called "Good Cop Bad Cop." This show doesn't pull any punches.
L&L say things like "Sometimes the right decision just isn't in the book." They have sex with people they aren't supposed to (sometimes in boxing rings), they party hard, they become the character they have to be to get their suspect.
But what happens when the suspect … is one of their own? They are in power positions on a renegade squad, one who those rich, meddling Feds have their eyes on. After taking money from the wrong undercover agent, Lopez has to inform on Liotta, but he soon realizes something fishy is going on. It becomes, then, a war between trusted friends, both of whom are accustomed to doing whatever it takes to get what they need — in single-mother Lopez's case, it's protection for her family.
You can learn pretty much all the relevant information from the preview. Shades of Blue is just what it looks like: an excuse for Lopez and Liotta — fresh off their respective turns in The Boy Next Door and Muppets from Space… I mean, Sin City: A Dame to Kill For— to be as tough and boilerplate as possible. They don't command the screen as much as just take it up, and scream at it. They hold their service weapons up for DGAF effect in almost every scene.
Shades of Blue is the bombast our Thursday nights need, if you're someone who fiends for "RIYL The Shield" programming, had a long day at work and need to escape all realities and critical thinking for a while.