Washington State Pot Laws Show the Risks of Selling Weed From a Cold Start 
Recreational marijuana sales might be bumpy ride, but they're blazing on.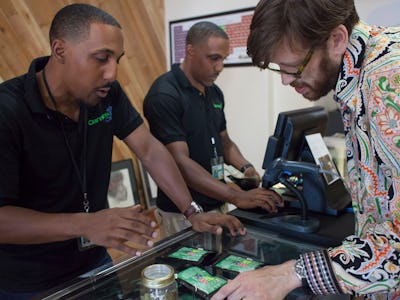 Getty Images
When Washington state approved Initiative 502 in 2012, nobody really knew what was going to happen next. But, the authors of the bill — people like the ACLU's Alison Holcomb — did well enough in the writing to put into place strict regulations and a viable framework. After a few hiccups, Washington began selling the sticky icky — for recreational consumption — in July of 2014. So, how's it going?
I asked Bob Young, a reporter for The Seattle Times, who covers the marijuana beat. "The first year-and-a-half of legal cannabis sales in Washington has been bumpy," Young tells me from the Emerald City. "I wouldn't consider that a surprise, because we're attempting to do something untested on the planet. Nobody knew if the Feds were going to allow it, so we wrote our law with an abundance of caution and attempted responsibility. That's added to the bumpiness, because it took quite a while to write the rules for a state-regulated system."
I live in Denver, so I asked Young how Washington's rollout has compared with that of my home state. (Colorado's Amendment 64 also passed in 2012, but recreational sales began earlier — on January 1, 2014.) "It's been more bumpy than Colorado — in some ways — because we did not have a well-regulated medical marijuana system in place," Young says. "That's a big difference. We opened with stores with people who had not been in the business before, whereas, in Colorado, six months or so of sales were only by people who had been in a heavily regulated industry. We had to build a lot of infrastructure that already existed in Colorado — whether it was labs, security, real estate aspects, or you-name-it."
The tax revenues for the first fiscal year of sales in Washington totaled around $70 million. While it's nothing to scoff at, it's barely a blip in the state's annual budget and represents a much smaller haul than many legalization proponents expected. The state hasn't begun a standardized pesticide testing system and even doesn't have a quality assurance program for medical marijuana (while it does for recreational).
Young points out to a study in the Times where they tested a purportedly high-CBD strain and five out of 22 samples came back without high CBD and, instead, high THC — the opposite desired effect. Buzzkill.
As for whether they're buying, the market is split pretty evenly. It's hard to get exact numbers for drug users, but around 35 percent of tokers opt for the recreational products, while 37 go for medical. A still-thriving 28 percent of Washingtonians prefer the old-school way: the illicit market. Because of better prices — illegal weed, of course, isn't taxed — many still hit the corner or call up one of the various delivery services that are widely advertised in public view.
Of the 10 biggest cities in Washington state, only two have banned sales. And it's a decentralized system that should put any fears of an Orwellian Big Marijuana cartel to rest. Washington doesn't allow for out-of-state investors, a retailer can have no more than three locations, and a grower can only have one license to grow on a 30,000 square foot plot. Additionally, a person can't be a retailer and a grower — it's one or the other. Still, Young stresses that — overall — the state needs more data over longer periods to reach big picture conclusions. Luckily, they have a great new option for killing some time.