What to Expect From 'Rick and Morty' Season 3 
Creators Dan Harmon and Justin Roiland confirm the return of Mr. Meeseeks, Blips and Chitz, and a couple of female writers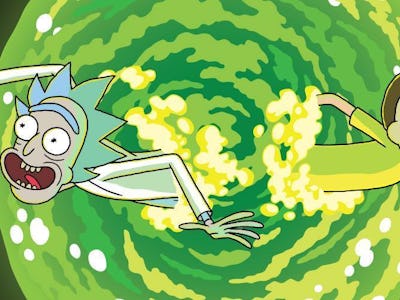 Adult Swim
Rick and Morty's second season was a smash hit, due in part to its creators' choice not to give in to fan service. At San Diego Comic Con this year, Dan Harmon told the audience, "our instinct was 'let's not ruin this by curling back in on our own tail too soon." That meant not including the Evil Morty who appeared in the penultimate episode of the first season, not returning to audience favorites like Mr. Meeseeks and Snowball, and creating new villains and stand-alone storylines for each episode.
Harmon and Justin Roiland have confirmed several ideas for the show's third season, which does not yet have a premiere date. We've compiled all of their promises, made to different sources, for a cohesive look at what season three will involve.
I'm Mr. Meeseeks, look at me!
First, we'll definitely see some more Meeseeks, and not just easter-egg style, yessiree.
Harmon said at Comic Con, "I'm going to make that a personal promise to myself. I'm going to force Mr. Meeseeks into season three." This won't be Rick and Morty's first time bringing back a character to serve a role in a new plotline, but it'll be a welcome return to some of the goofiness we saw in the first season.
At least one scene will be set at Blips and Chitz
Harmon confirmed in an interview with The Hollywood Reporter, "we can fade in on Blips and Chitz because we've already proven that the show isn't going to start eating itself, and that will feel even more limitless if we go back to a couple things that we really enjoyed doing." This will hopefully mean a look at the other games available in the arcade, since Rick and Morty only got around to playing Roy during their first visit.
Rick's gonna get out of prison right away
Harmon confirmed in another interview that taking Rick's incarceration seriously as a plot-point would just lead down a road most audiences don't care about. "I don't think anybody wants to do a third season that simply spends a whole bunch of episodes dealing with a situation that we created at the end of the second season. So I think that's a non-spoiler way of saying things should be okay pretty quickly."
No word on whether his escape will also be set to a Johnny Cash tune.
Estrogen, baby
The Rick and Morty writers' room found itself in a bit of hot water earlier this year when Harmon and Roiland brushed off the fact that they hadn't hired a single female writer for the show's second season.
Roiland told The Hollywood Reporter, "Anyone who makes the cut and joins the team has definitely done so on their own merits. We've gone from having zero spec scripts [in the running from female] candidates, to having five or six of them, so it's looking very likely that season three will have one, potentially two gals in the room. I think it will be fun and interesting."
Cyclical plotlines
Harmon and Roiland have confirmed that their second season was an attempt to expand the show's scope, introducing new characters and set-ups while avoiding commentary on most of the first season. Rick and Morty's third season, however, will be a tad smarter, focusing on some of the plot-holes left behind in previous episodes.
As Roiland told the crowd at Comic Con, "we've got a lot of little loose sweater threads we've sprinkled throughout [seasons] one and two that we're going to come back and tie in a nice little bow in subsequent seasons." While this may not mean another look at Stephen Colbert or Jemaine Clement's characters, it will certainly mean the return of Tammy, Evil Morty, and Dog World. That's good news.