Anonymous Launches Cyberattack Against Turkey and ISIS
The hacker group accuses Turkey of supporting and funding ISIS.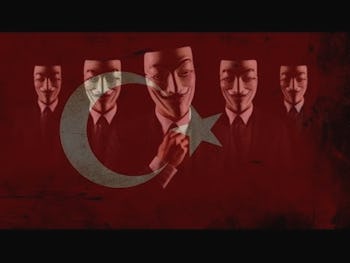 Last week, a massive DDoS attack temporarily disabled 40,000 Turkish (.tr) domains. On Saturday, Anonymous claimed responsibility for the attack, announcing it as a new phase of #OpISIS — after a paltry last phase. The legion of hackers claims that the government of Turkey is aiding ISIS, or Daesh.
According to the announcement video — replete with awkward, unnatural gesticulations — Turkey is "buying oil from [ISIS], and hospitalising their fighters."
In addition, the media's coverage of the hack, Anonymous says, led the government to "shut down it's [sic] internet borders and deny anybody outside the country to access Turkish websites."
The large-scale hack took place last Monday, and the five primary .tr websites were shut down, by Turkey, not long thereafter. This preventative measure brought down at least 40,000 other websites, too. Now, the main .tr sites are back online — and non-Turkish visitors are again permitted access — but many smaller sites remain either inaccessible or offline.
Even if Anonymous is right and the government of Turkey is supporting ISIS, the citizens of Turkey are not. The attacks directly affect those citizens, though. And the attacks will affect them even more if they continue, as Anonymous warns. The video pledges that they will intensify their attacks against Turkey if their alleged support of ISIS continues:
"We will continue attacking your internet, your ROOT DNS , your banks and take your government sites down. After the ROOT DNS, we will start to hit your airports, military assets and private state connections. We will destroy your critical banking infrastructure."
Anonymous and Turkey don't exactly get along. #OpTurkey has been going on for more than two years. And ISIS continues to be the hackers' primary target.
They wish to limit the terrorist organization's cash flow, which, though it may also involve innocents, has fewer ramifications and potential civilian casualties than, say, airstrikes.
The video concludes with a final, oft-repeated warning. "Stop this insanity now Turkey. Your fate is in your own hands."