The Future of Las Vegas: Monorails, Locomotives, and Hyperloop Hype
Will Sin City's gamble on new transportation projects pay off?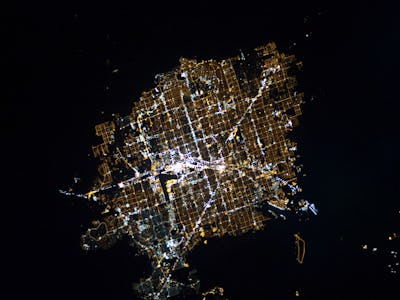 NASA Earth Observatory
Macau be damned, there's not a city in the world that can equal Las Vegas for debauched middle-management conventioneering, relentless air conditioning, or wall-to-wall carpeting. The city remains a tourism and entertainment hotspot almost despite itself. Civic management has been a near complete failure and no where is that more evident than in the transport sector, which will likely be this oasis's Waterloo.
Although the city proper is home to just 613,599, the Las Vegas metropolitan area now boasts more than two million residents. That number is expected to skyrocket up to 3.2 million by around 2040, at which cars just aren't going to cut it anymore. That means Las Vegas needs a better option at a time when it's looking to differentiate itself.
"The personal vehicle dominates the way we travel in Las Vegas, says Alexander Paz, the director of the University of Nevada, Las Vegas' Transportation Research Center. "There is good transit service provided but it is still insufficient in terms of coverage and frequency to make it attractive to most commuters. Higher coverage and frequency is required so that transit reaches a level of service that will make it more attractive than personal auto."
The reason the car is likely to continue its reign is that developers have doubled down on a sprawl approach to growing, which means that alternative transportation options are increasingly inadequate.
Unfortunately, that's not the way cities attract tourists. People don't want to have to stay in an Airbnb that's only reachable by car from Caesar's Palace. "Simple but important activities such as moving from the airport to the hotel need to change dramatically," says Paz. "The long lines waiting for a taxi after hours in a plane are not consistent with a world class touristic place. The current monorail needs to be expanded and probably improve it so as to provide a more comfortable and modern experience. This is standard in many other places."
A drastic overhaul is exactly what some city officials are thinking. Transportation leaders in Las Vegas are currently debating a $12 billion, 30-year proposal that would add many more monorail stops around the Las Vegas Strip, widen sidewalks and build pedestrian bridges to increase travel by foot, and install a light rail that links downtown to the airport.
Though that $12 billion price tag looks bad, it's worth remembering that it's spread over 30 years — and sits besides the region's $95 billion-a-year-tourist economy.
Paz emphasizes that a high density of users will be needed to make the rail cost effective. Monorail expansions would also need to be strategically linked to the tourism corridor in order to truly make a difference for the city. And in general, "cost is going to be very high given the limited space and costly infrastructure along the Strip."
There's other things the city can do in order to help ease its transportation woes, especially for the residents. Paz thinks car sharing services should be incentivized, and more bike routes established, in order to decrease traffic.
There's also another dimension to Vegas' transportation plans that ought to be considered: making the city more well connected to other parts of the state as well as California. This might require some more innovative technologies, but Silicon Valley's influence seems to have rubbed off well on Paz and his colleagues. They have proposed an interesting they call the 'Land Ferry'. The idea basically calls for the establishment of a transportation corridor — via locomotives powered by wind energy — that would serve the shipping needs of the region and alleviate the costs of maintaining and expanding the I-80 highway.
The whole thing would stretch for about 320 miles, starting at Fernley and ending at Wells, but Paz believes the same technology could be easily implemented around the state and help make it easier to ship goods to and from Las Vegas.
Let's also not forget that Los Angeles-based Hyperloop Technologies wants to get a hyperloop test track down and connect L.A. to Las Vegas, potentially turning Vegas into Hyperloop's version of Kitty Hawk. Suddenly, with people able to travel around at 700 miles per hour, the issues created by an ever-sprawling city of people forced to live far from where they work vanish in an instant.
Undoubtedly, new transportation projects will bring about great change to Vegas, but it's unclear what exactly this might look like, and even more unclear whether residents will embrace or resist this change. What is certain, however, is that unless the city begins to move away from a love of cars and towards a love of alternative transportation methods, the Entertainment Capital of the World will find itself dethroned soon.