Elon Musk Says Losing the Falcon9 Rocket on His Birthday was 'Emotionally Traumatic'
Musk tells a massive crowd at the American Geophysical Union the story.
by Sam Blum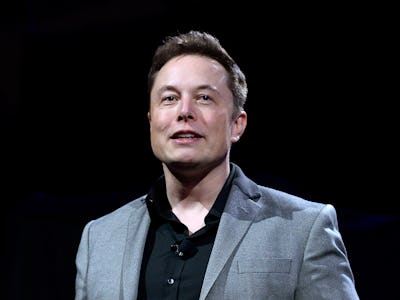 Getty
Tech industry titans aren't particularly inclined to share the intricacies of their souls with the public, but Elon Musk skirted this unofficial rule Tuesday when he told a massive crowd at the American Geophysical Union just how he felt when SpaceX's Falcon 9 rocket exploded in June.
He did not feel good.
"Losing the rocket was actually quite hard. It was quite emotionally traumatic actually. It was on my birthday, you know," Musk said, according to reporters in attendance.
There was an immense line to see Musk wax lyrical at AGU, and some journalists on the scene took photos:
Musk of course, isn't giving up on the pursuit of space-bound glory.
Despite his somber statement, SpaceX has been making waves in the aerospace industry since the summer: The company will launch its first manned mission to the International Space Station in 2017, and has been cozying up with NASA in a competition with aerospace companies like United Launch Alliance.
SpaceX is also looking to avenge the last fiery mission failure sooner than later, and will launch another Falcon 9 from Cape Canaveral in the coming days, this time as part of a United States Air Force mission.
So Musk shouldn't really be that sad, right?