'Fantastic Beasts and Where to Find Them' Trailer Evokes Our Terrorism Era 
The Potter Universe film may be based in the 1920s, but it's very 21st century.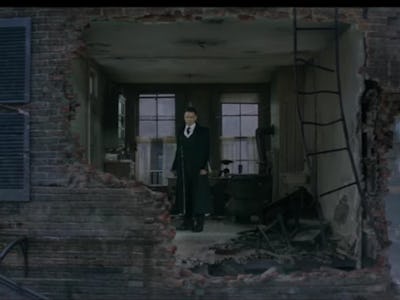 'Fantastic Beasts and Where to Find Them' Trailer 
The long-awaited trailer for the next movie from the Harry Potter Universe, Fantastic Beasts and Where to Find Them is online. Dig.
The movie builds on the 2001 book of the same name that Rowling published under the pseudonym Newt Scamander. While Rowling wrote the original Fantastic Beasts as if it were Harry and Ron's textbook on magical animals, the new trailer shows Rowling, who is the film's screenwriter, taking the movie in a totally different direction.
The story follows Scamander — 70 years before Harry Potter is born — as a visitor in New York. It seems he brought to the city a suitcase of magical creatures, some of which get loose.
The trailer definitely invokes the modern terrorism era, opening with a woman standing before a concerned-looking queen of some kind and declaring ominously: "Yesterday, a wizard entered New York with a case," evoking the post-9/11 fears (and 24 plots) of suitcase nukes. We've also learned, though no mention is made in the trailer, that the plot will feature an "extremist" wizarding group, the Second Salemers.
For those of us who loved Harry Potter but always wanted to learn more about the relationship between the wizarding and muggle worlds, this movie seems right up our (Diagon) alley. The shift from Britain to America is also welcome, not to mention, good business.
The trailer instantly became major news across the internet, and no doubt it will be the talk of the town today. Comedy Central UK seems to have diagnosed the prevailing mood best.
Unlike the original Harry Potter series that made stars out of some unknown kids, Fantastic Beasts seems to be embracing the big-name actors from the beginning, including Eddie Redmayne, who shows up in the trailer, as well as Colin Farrell, Gemma Chan, Carmen Ejogo, and Jon Voight.
The movie is the first in a trilogy and will premiere in November 2016.