Here Are the Highlights From Nigo's Sotheby's 'Star Wars' Auction 
The BAPE designer auctioned off his impressive collection of 'Star Wars' action figures and memorabilia, and made a ton of money in the process.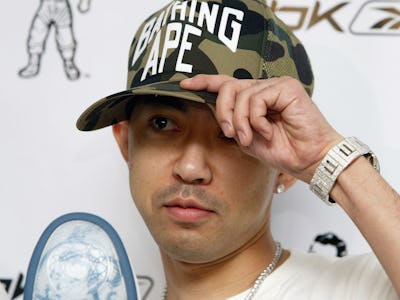 Getty Images
Japanese designer and entrepreneur Nigo (real name: Tomoaki Nagao) is perhaps best known for creating the popular clothing line A Bathing Ape. But it turns out he's also a fairly prominent collector of Star Wars memorabilia. A bunch of his collection of rare action figures and replicas — 175 lots in total — from the galaxy far, far away were up for sale today at Sotheby's at an auction collectively called "Return of the NIGO." Last year the auction house hosted a collective sale of the designer's art collection called "NIGO Only Lives Twice," but today's auction was only made up of Star Wars goodies. Here are some of the highlights.
Star Wars Power of the Force Yak Face '92-Back' Action Figure, 1985
Auction Estimate: $4,000 - 6,000
Who knew a figure to a z-list Star Wars character could be sold for so much money? This Yak Face figure was only produced in non-U.S. territories.
Star Wars Early Bird Certificate Package Store Display, 1977
Auction Estimate: $7,000 - 9,000
The box sold at the auction was one of five known examples of the display case to the infamous Early Bird Package, which was created when toy company Kenner couldn't meet consumer demands for Star Wars toys after the original film was released
Hungarian Boba Fett Action Figure, 1989
Auction Estimate: $3,000 - 5,000
This incredibly rare Boba Fett figure also sold at the auction, but it had nothing on this Hungarian figure sold in the European country for the release of The Return of the Jedi.
Canadian Star Wars: The Empire Strikes Back Seven-Figure Multi-Pack, 1980
Auction Estimate: $8,000 - 12,000
This seven-figure set was sold exclusively in Sears stores in Canada for the release of The Empire Strikes Back.
Star Wars Luke Skywalker Action Figure With Double-Telescoping Saber, 1978
Auction Estimate: $12,000 - 18,000
One of the earliest Star Wars toys ever made, this Luke figure was a pre-release toy with a double telescoping lightsaber that was quickly discontinued in favor of a single lightsaber.