Revisiting the 'Hateful Eight' Script Saga
How did Quentin Tarantino's scrapped movie make it back to the big-screen within one year?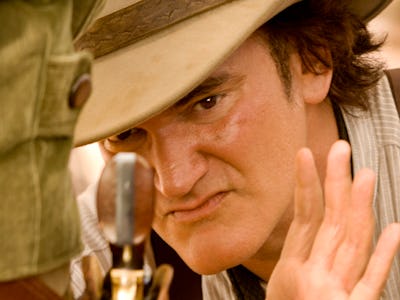 The Weinstein Company
Following the success of the critical and financial success of Django Unchained in 2012, writer/director Quentin Tarantino announced that he'd revisit the western genre for his next film, The Hateful Eight. Two months after that announcement the project was effectively dead, foiled by a script leak by one of Tarantino's closest collaborators who still remains nameless to his day. The leak threw the infamous director into a creative tailspin, turning his back on the medium that he perfected in favor of other means of creative output. But after all that, Tarantino capitulated and ended up making his movie in an act of celluloid-based defiance. The Hateful Eight hits theaters on Christmas Day in the uber-wide and nearly obsolete Ultra Panavision 70mm format before being released nationwide on January 6. But how did we get here?
When he was prepping his newest movie, he sent a first draft of the screenplay out to a select few personal friends and colleagues including Django Unchained producer Reginald Hudlin and actors Tim Roth, Michael Madsen, and Bruce Dern. Tarantino learned of the leak after he began receiving calls from agents hoping to pitch their clients for parts in the still-in-development movie. No one knows exactly what happened, but nearly everyone surrounding it has some idea. The first draft, an unfinished version of the final movie hitting theaters, seemed to have been leaked by CAA, the agency that represents Dern, though that claim hasn't ever really been corroborated.
"I'm very, very depressed," Tarantino told Deadline at the time. "I finished a script, a first draft, and I didn't mean to shoot it until next winter, a year from now. I gave it to six people, and apparently it's gotten out today." He then scrapped the idea to film it, figuring he could publish it in book form and move on, saying, "I've got 10 more where that came from."
But his Hateful Eight western idea kept coming up, most likely due to the fact that Tarantino is as popular as ever. He'd been nominated for an Oscar for writing and directing Inglourious Basterds, which made over $300 million worldwide. He went on to win an Oscar for writing the Django screenplay after it became his highest grossing movie of all time with over $400 million worldwide. he was in demand, and there was The Hateful Eight just sitting there. The only thing keeping it from having Bob and Harvey Weinstein's money thrown at it was Tarantino's bruised ego.
But perhaps figuring what he had was gold, Tarantino dusted the script off and three months later directed a live reading of it at the United Artists Theater in the Ace Hotel in L.A. Tarantino apparently revelled in the experience, taking the stage to a standing ovation while decked out in a cowboy shirt and ten gallon hat. At that point he revealed to the audience that the renewed interest in the script and the opportunity to do the live-read was like a rejuvenating incident: He was working on a second draft. The Dissolve reported that at the table read — which featured Samuel L. Jackson, James Parks, Kurt Russell, Walton Goggins, Tim Roth, Michael Madsen, Bruce Dern, and Zoe Bell in the roles they would embody in the eventual film — Tarantino "generally seemed to be having the time of his life." After an eight month period, principal photography began on The Hateful Eight on location in Colorado.
So will the movie hitting theaters in two weeks be anything like the script that leaked nearly two years ago? Having seen the movie, in glorious Ultra Panavision 70mm, we can say it's a little bit yes and a little bit no. The extremely talky first half (which is appropriate for a Tarantino movie) is largely unchanged, save for a few minor details. A letter that Jackson's character Major Marquis Warren carries with him is merely mentioned in the script, but becomes a major plot point in the movie. Other than that, the character that Mexican actor Demián Bichir plays is described as French in the script.
The real change comes in the film's second half. Without spoiling much, we can only say that characters live and die in different ways, and the film ends on a completely different note. So anybody who thought they'd get the same experience watching the movie as they did reading the script would be sorely mistaken. The Hateful Eight almost begs to be seen onscreen, just how Tarantino originally wanted it.