5 Surprise Influences Found in Quentin Tarantino's 'The Hateful Eight'
The director known for cultural deep-dives found inspiration outside the obvious westerns.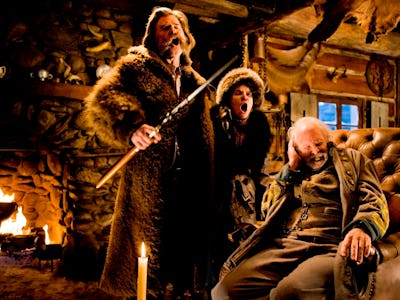 The Weinstein Company
Per the director's style, Quentin Tarantino's new movie, The Hateful Eight, takes its cues from a pastiche of recognizable influences. Look for a heavy base of Sergio Leone, a bit of John Ford, a hefty scoop of Samuel Fuller, and a dash of The Magnificent Seven. But the most promising innovation of Hateful Eight, aside from its use of the 70mm film format, is that it's going to pull from some curious corners to build its epic potboiler Western. Here are a few of the film's most offbeat homages.
John Carpenter
A claustrophobic story of a group of people — including Kurt Russell — in a remote wintery setting during crippling blizzard, set to the music of Ennio Morricone. Sure, that's one way of describing The Hateful Eight, but it doubles as a thumbnail for John Carpenter's The Thing. Tarantino allegedly screened Carpenter's 1982 horror classic for his cast before setting them against each other, and it makes sense. The Hateful Eight fixes a suspicious cast in place and forces them to reckon with one who is not as he seems. Imagine, then, The Thing scripted by Tarantino and with Samuel L. Jackson in the role first played by Keith David. Maybe someone should have had that idea before they made a pointless prequel — weirdly enough also called The Thing — in 2011.
It's a Mad, Mad, Mad, Mad World
What does a 1963 comedy starring Sid Caesar, Ethel Merman, Mickey Rooney, and about a hundred other of your grandparents' favorite comedians have in common with Tarantino's bloody western? The original cut of It's a Mad, Mad, Mad, Mad World flat-out sprawled, at 210 minutes in length and shot in the ridiculously wide Ultra Panavision 70mm format Tarantino is using for The Hateful Eight. The movie's director of photography, Robert Richardson, has said Tarantino looked to the Mad movie for instruction on how to arrange its huge cast into single shots.
"Part of what happened in It's a Mad, Mad, Mad, Mad World is that you had a medium shot with all the characters in the frame," Robertson explained to Indiewire earlier this year. "It was an adjustment for all of us."
Paul Thomas Anderson
Like his peers Tarantino and Christopher Nolan, director PT Anderson has used film to great effect, as when he set his 2012 The Master on 65mm film. Along with Nolan's 2014 sci-fi epic Interstellar was proof of concept for the near-obsolete format that Tarantino adopted for Hateful Eight. Anderson's approach also drives the format to tell stories of emotions rather than natural vistas or spacescapes: He fills his wide-angled movies with vivid close-ups of faces and interiors that stress a microscopic look his characters and their motivations. Tarantino's western undoubtedly features some expansive shots of snowy mountains and prairies (it wouldn't be a western without them), but the confined setting will also allow him to pull us in close, uncomfortably close, with his rogues' gallery.
Bonanza
The narrative tricks of a TV show that ran for a then-record 431 episodes are not to be taken lightly. Tarantino told Deadline last year, "Twice per season, those shows would have an episode where a bunch of outlaws would take the lead characters hostage." He continued: "I thought, 'What if I did a movie starring nothing but those characters? No heroes, no Michael Landons. Just a bunch of nefarious guys in a room, all telling backstories that may or may not be true. Trap those guys together in a room with a blizzard outside, give them guns, and see what happens."
Quentin Tarantino
Nope, that isn't a typo. For however much Tarantino loves to reference other movies in his work, he also loves to regurgitate his own techniques: chainsmokers decked out in skinny black ties and black suits, his infamous trunk shots, constantly reinventing has-been actors. The difference between QT and other directors that lazily repurpose their previous ideas is that Tarantino actually pulls it off. That said, the showdown between a bunch of no-good characters in a confined space in The Hateful Eight reeks of the final Mexican standoff in his first movie, Reservoir Dogs. Only Tarantino would have the audacity to expand a single scene into a three-hour movie — and, in all likelihood, to pull it off.