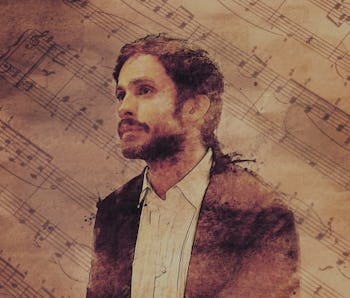 Entertainment
'Mozart in the Jungle' Is Coming Back for Season 2 This Month, and It's Going to Be Great
What we can expect from the next ten episodes of Amazon's cult-hit about an orchestra that knows how to party.
Facebook
Amazon keeps its viewership stats close, so many instant video users who took an offhand chance with the bizarre-looking half-hour comedy Mozart in the Jungle — and loved it — last year couldn't be sure of its chances for renewal. Outside of the die-hard classical music community, the show — which tells the story of the invented New York Symphony and their struggle to push forward under the baton of the eccentric Mexican conductor Rodrigo (Gael Garcia Bernal) — has a more disparate fanbase.
Nonetheless, the show was a huge critical success, currently holding a 95% rating on Rotten Tomatoes, and roped many viewers in by virtue of its star power alone. If the prospect of a show about the classical music industry seemed too inside baseball, perusing an episode or two made it clear that knowledge of that world and repertoire was not necessary to appreciate its eccentric characters, wry humor, haphazard pacing, and charming performances — Bernal, in particular, is a source of constant delight. The combination of Sofia's brother, music video director and Moonrise Kingdom co-writer Roman Coppola, American Pie co-mastermind and Grandma director Paul Weitz, and the ubiquitous Jason Schwartzman as producers, directors, and writers proves to be an unexpectedly easy fit, and not as suffocatingly twee as one might have feared.
In February of this year, a second season of the show was confirmed., and now, release day is upon us. December 30th will bring a lot of excitement. The primary cliffhanger at the end of last season was a unresolved flirtation between Rodrigo and his erstwhile assistant, oboe-playing hopeful and the show's protagonist Hailey (Lola Kirke). The odd intersection happened while both of them were dealing with other difficult, passionate relationships, and struggling to keep their priorities straight as musicians and human beings. The trailer points to the obvious fact that there are dramatic developments in store: No matter how they try, the two oddballs — who "never talk about what [they're] talking about" — can't get away from each other.
Meanwhile, times are hard for the NYS in a world where arts funding is low, and donors don't like Rodrigo's "cool," even if it's good press with the young people: They don't buy the expensive seats. Maestro Rodrigo will have to find a way to hold his own against continuing pressures to make his orchestra more like his predecessor's, Thomas Pembridge (Malcolm McDowell), and the threat of a strike from an orchestra — represented by Cynthia (Saffron Burrows), first and foremost — whose salaries are in trouble. In this way, Mozart in the Jungle stays perfectly in tune with the real-life troubles of hallowed classical music institutions. While you don't have to know about this world to enjoy the zany energy of Mozart, you will learn some real things about it, as the show takes care to remain detailed and clever, as well as patently absurd.
In other news, the viewer will find Pembridge struggling to find his way as a retiree attempting to pen a symphony, and the orchestra's operations manager, Gloria Windsor (Bernadette Peters), looking for love and a new future. There are also an unprecedented amount of goofball cameos from some of the biggest names in the classical performance community, including the return of concert violinist Joshua Bell, who showed up in the pilot.
With a first season that only runs five hours in total, there's plenty of time to catch up on this excellent, undersung show before Season 2 hits in time for a New Year's binge watch.