Scott Buck Will Make Netflix and Marvel's 'Iron Fist' Its Next Dark and Shadowy Thing
The former producer of 'Dexter' and 'Six Feet Under' will oversee Marvel's kung-fu superhero.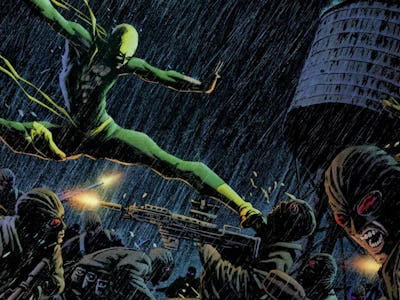 Marvel
With the first season of Jessica Jones in the books and Luke Cage now in production, it was only a matter of time before word regarding Marvel and Netflix's last superhero series, Iron Fist, would surface. ComicBook has reported Scott Buck, whose credits include Six Feet Under and Dexter, has been given the showrunner gig of Marvel's Iron Fist.
Though he had written for Dexter since its second season, Buck was showrunner of Dexter Season 6 until the series finale, a run that received critical negativity but drummed up high ratings for network Showtime.
Based on his previous work, it's safe to assume Marvel and Netflix are hoping to maintain their reputation of producing the populist "dark" cinema that Daredevil and Jessica Jones turned out to be. But is that a good fit for Iron Fist? Danny Rand is one of the "street" superheroes of Marvel, but his pseudo-Asian mystical origins is too afternoon matinee even for Marvel. Christopher Nolan made Indochinese ninjas grounded in Batman Begins, but Scott Buck isn't Nolan.
Elsewhere, Marvel confirms the premise of Iron Fist, which relinquishes my hope that Shang-Chi will matter in any way in the series:
Returning to New York City after being missing for years, Daniel Rand fights against the criminal element corrupting New York City with his incredible kung-fu mastery and ability to summon the awesome power of the fiery Iron Fist.
Huh. Maybe this will be like Batman Begins after all.