Watch the Atlas V Rocket Launch on Its Fourth Try Sunday
The rocket successfully launched on Sunday after scrubbed attempts on Friday and Saturday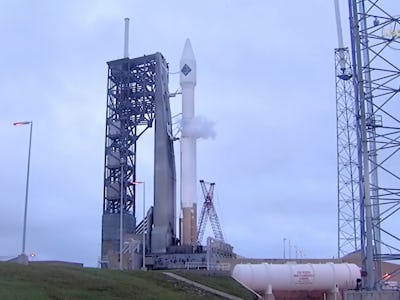 High winds kept an Atlas V rocket on the ground Thursday, Friday, and Saturday, but at 4:44 p.m Eastern time on Sunday, the rocket, carrying the Cygnus spacecraft, lifted off from Cape Canaveral Air Force Station in Florida toward the International Space Station, where it will deliver supplies and research equipment to the five astronauts aboard.
As part of the OA-4 mission, Cygnus is carrying 7,300 pounds of "science and research, crew supplies and vehicle hardware" which will be used in dozens of the approximately 250 science and research investigations that will occur during Expeditions 45 and 46 of the ISS.
Cygnus will meet the ISS at 6:10 a.m. on Wednesday. "NASA astronaut Kjell Lindgren, using the space station's Canadarm2 robotic arm to take hold of the spacecraft. Scott Kelly of NASA will support Lindgren in a backup position," announced NASA in an updated release on Sunday night. "Cygnus will spend more than a month attached to the space station, before its destructive re-entry into Earth's atmosphere, disposing of about 3,000 pounds of trash."
Here's the Atlas V rocket separating from the rocket stage Centaur, which carried the Cygnus on its way to the ISS…
…And here's the Cygnus separating from the Centaur — this is an animation based on data sent back to Earth by Cygnus:
Here's the full launch video:
According to NASA, the supplies on the Cygnus "will offer a new life science facility that will support studies on cell cultures, bacteria and other microorganisms." Additionally, there will be "experiments that will study the behavior of gases and liquids, clarify the thermo-physical properties of molten steel, and evaluate flame-resistant textiles."
The solar arrays, which you can see in the below illustration, were set to deploy about an hour after launch.
The Cygnus mission is a big deal for what it means to space company Orbital ATK, which hopes to secure a contract with NASA to be its official carrier of of supplies to the ISS.
It's going to be a busy 2016 for United Launch Alliance, which runs the Atlas V rocket program. "We have 16 missions on the manifest right now," said Vernon Thorpe of ULA on Sunday. In about three months the OA6 mission will lift off.