Why Orbital ATK's Launch to ISS Is So Important to the Future of Commercial Space
New launch is set for 5:33 p.m. FridayEastern time on Friday.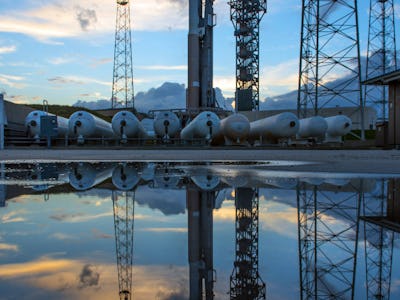 United Launch Alliance
Though names like SpaceX and Blue Origin seem to hog all the commercial spaceflight spotlight, it would be a mistake to gloss over the other companies that are looking to make their mark on the industry.
Companies like Orbital ATK, which on Thursday was supposed to launch an Atlas V rocket carrying its newly-upgraded Cygnus spacecraft (25 percent more cargo room!) to the International Space Statio. It's part a resupply mission for the astronauts currently up there.
The launch date has been pushed to 5:33 p.m. on Friday, December 4 due to adverse weather conditions:
About 7,700 pounds of supplies, research equipment, and necessary hardware will make their way aboard the space station and help prepare NASA for the scientific studies central to the upcoming Expeditions 45 and 46 missions. The cargo is especially important for the kinds of research investigations — big and small alike — scientists here on the ground are trying to pursue. You can read more about that here.
More importantly, however, is how the mission's success or failure will help shape the short-term future of commercial spaceflight, and which companies will be leading it.
Here's the thing: Since NASA put the kibosh on the Space Shuttle program, it's been forced to hitch a ride on other countries' rockets — primarily Russia's — to get to the ISS. This is still the case for getting American astronauts to and from the space station, but when it comes to supplies and equipment, the space agency has spent the last two years outsourcing the work to the private sector — primarily to SpaceX and Orbital — under its Commercial Resupply Services contracts.
The arrangement has worked out, but not without its share of setbacks. In October 2014, a resupply mission ended in disaster when Orbital's Antares rocket exploded. (Orbital is currently redesigning its Antares rockets for future missions, which is why it's using United Launch Alliance's Atlas V rocket this time). SpaceX watched its Falcon 9 rocket, carrying its Dragon cargo spacecraft, blow up after liftoff.
The two companies, and others, are racing toward a $3.5 billion contract for managing all of NASA's ISS resupply needs for the next seven years. They want some stability here — a trusted company that can safely and reliably deliver the resources our astronauts need to live comfortably and do their jobs well. The two previous failures (plus the loss of Russian Progress supply ship last April) means the ISS only has enough food to last until the spring. Each explosion isn't just a setback for the company — it's a setback for NASA's work, too.
The space agency will be making its decision by the end of January 2016. It may elect to continue working with both companies — or even adding another company in the mix — but odds are this is the point NASA decides to throw its support behind just one company.
That means Friday's mission is Orbital's closing argument for why it should be awarded the contract. SpaceX will be launching an upgraded Falcon 9 rocket to the ISS on January 3. The dark horse in this race is Sierra Nevada, still hoping its cargo ship, DreamChaser, will be enough to persuade NASA to award it the contract, but the company doesn't have any upcoming missions scheduled before decision time is up.
Even if the Cygnus spacecraft makes it out of the atmosphere in one piece on Friday, it won't reach the ISS until December 7 or 8. It will stay docked for a month as supplies are shifted into the ISS and trash is thrown back on the cargo ship, after which Cygnus will move back into Earth's atmosphere for a "destructive re-entry," disposing about 3,000 pounds worth of waste. Only once it completes the entire job will NASA really be able to evaluate whether Orbital deserves another $3.5 billion to conduct future missions. Check in with us tomorrow to find out.