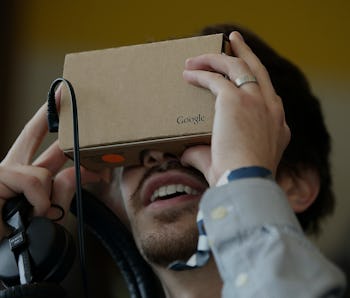 Innovation
Google Cardboard Gets Its First Dedicated Porn Channel
Cardboard's early erotica might be even more underwhelming than the headset.
Getty Images
Whether or not you believe the Google Cardboard viewer counts as proper virtual reality — it's got the 360-degree part down pat, but lacks immersive, user-controlled movement — it's getting dragged into VR's pornographic future.
Coming this week is Virtual Porn 360, which its creators claim in a press release is the "first website at an international stage to produce and distribute adult content in 360 degrees for virtual reality devices."
If those qualifiers sound like splitting pubes, they are. Porn has quietly — and also vigorously — simmered in the background of virtual reality development. Internet erotica giant Pornhub announced a premium channel that includes VR in August. But a subscription porn channel is a tough sale, with several companies vying for the "Netflix of porn title" and hamstrung by loads of free content.
The storied bastions of internet self-gratification remain undeterred, however. To justify the cost of subscription, Pornhub is going after top-of-the-line virtual reality headsets, as Vice Vresident Corey Price told Inverse this fall.
We'll be looking to [support the Oculus Rift](https://www.inverse.com/article/7109-pornhub-s-vice-president-on-virtual-reality-it-s-coming first and foremost (with others potentially on the horizon). The Oculus makes the most sense to develop for at the moment given its brand recognition, so that's why it's our initial choice. But it'll work the same way most videos and/or games work on VR — you feel as if you're really there in front of the actors. The device's gyroscope, magnetometer, accelerometers, and 360-degree field of view will all play into the porn experience ideally.
Virtual Porn 360 may be the first — but certainly won't be the last — company trying to slip in through VR's low end. Even this might be more than Virtual Porn can chew, as its website shows all of its barely year-old age. It was launched by two brothers who say they previously developed the erection pill Forsamax, marketed as a "natural and discrete supplement." (The Food and Drug Administration has no mention of Forsamax on its website, but the pill does have a Spanish-language cartoon ad with a sultry trill.)
Perhaps the brothers Forsamax will fare better with their erotica venture — the Forsamax Facebook page hasn't been updated since December 2014 and makes cryptic references to "cyber attacks" — but the (obviously NSFW) website is both illiterate and veers toward the sad side of titillation.
Nevertheless, should you be interested in working for erstwhile pharmaceutical naturopaths or simply need a fresh pump of pre-holiday capital, you're in luck! Virtual Porn 360 is currently hiring actors.