New VR Sex Game Stars Headless Blowup Doll, Vigorous Humping
VR's killer app is terrifying.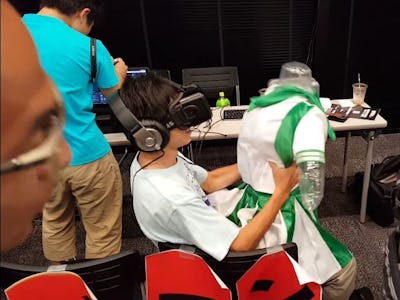 YouTube.com/zeroyon01
The video below is not the life imitates art version of Academy Award winner Her we need, but it's the brutal, dry-humping version of Her we're gonna get.
Tentatively called Spaceship Battleship Girlfriend, the game incentivizes a young man to hump a clear plastic human — not that he seems to need much incentive. It debuted on the demo floor at the recent Japanese Oculus Festival. And nothing was ever the same.
According to a post on Imgur, a conference attendee tried out the Spaceship Battleship Girlfriend expecting a "naked young anime schoolgirl or something" but was instead "greeted by a big, muscular black man with dreadlocks in a tight, white tracksuit."
The man shouted humping exhortations. The doll was equipped with a smartphone accelerometer. Everyone kept their clothes on — which is actually more concerning than the alternative if you think about it.
The Oculus Rift hits stores early next year. Consider this a reminder to brace yourself.