Marvel's New Hulk Is an Asian Bro | THE PULL LIST
Marvel's 'Avengers,' 'Red Wolf,' and 'Daredevil' return, new Hulk debuts, 'Pacific Rim: Tales of the Drift' and more.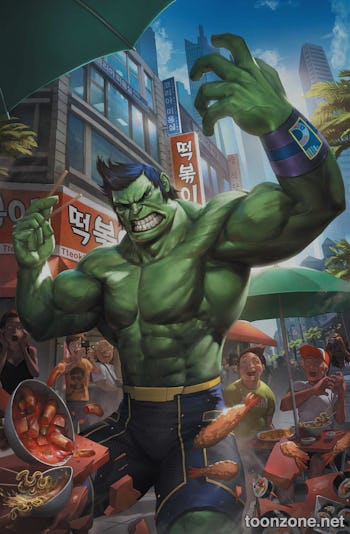 Marvel
Welcome to The Pull List, Inverse's weekly roundup of new comic book releases worth enjoying. Whether you're a longtime fan or a newbie reader, you can depend on us to help guide you through today's hottest issues that will be tomorrow's classics. This week, a slew of #1s from Marvel, the second chapter of the All-New Avengers, James Bond, and giant Japanese monsters will fill out your collection.
Totally Awesome Hulk #1
With Greg Pak penning the story, Marvel is introducing a new gamma-radiated individual to the Hulk family: 17-year-old Amadeus Cho. But unlike Banner, who treats his Hulk persona like a curse, Cho is living it up and embraces the new beast within. This is a Hulk that scarfs burgers and flirts with cuties. Now that's totally awesome.
Daredevil #1
In a landmark year where Daredevil finally has a kick-ass live-action adaptation (Sorry, Affleck), the guardian of Hell's Kitchen has a new series following Marvel's Secret Wars. This time, Murdock takes a turn at playing mentor when he takes Samuel Chung, an illegal Chinese immigrant living in New York's slums under his wing. Welcome to Marvel, Blindspot.
James Bond #2
Warren Ellis has taken Ian Fleming's suave secret agent and transformed him into a gritty and grounded noir anti-hero. Now stranded in Berlin, Bond has just minutes to live unless he can make it to the Embassy in time for help.
All-New, All Different Avengers #2
Mark Waid's take on Marvel's premiere Avengers team got off to a great start, taking its time focusing on just a few members of the team and introducing a threat not one superhero can handle. Can the team get their ish together in time? (Probably, if we're being honest. But still!)
Red Wolf #1
The Native American outlaw of Marvel, Red Wolf, is finally returning in his first solo series since the '70s. While his story begins in 1872 amidst the frontier expansion, it's an alternate 1872…but Secret Wars has thrown him in the main 616 universe, inhabiting the same timeline that will eventually see Spider-Man and Captain America. Of course, this being comic books, there's no reason to not expect Red Wolf to someday cross paths with them.
Invincible Iron Man #4
With Peter Parker and Mary Jane having moved on from each other, the former spider beau is now Tony Stark's assistant, and Stark introduces a sweet new samurai armor complete with laser katanas. But I wonder if Marvel is secretly promoting something this month….
Spidey #1
Ever wondered what Peter Parker's high school days were like? The genius actually spent a mere few issues in school before spending most of his publication history as an awkward, working adult. But Marvel scribe Robbie Thompson (The CW's Supernatural, Silk) is turning back the clock to give readers a look at Marvel's most iconic heroes suffering growing pains.
Kodoja #1
After a successful Kickstarter, kaiju superfans Keith Foster, Rory Smith, and Lance Pilgrim have struck a traditional publishing deal through 215 Ink and Kodoja will get a physical release at retail. Imagine Godzilla and Cthulhu duking it out. That's Kodoja, putting an original spin on iconic giant monster classics.
Pacific Rim: Tales From the Drift #2
The Pacific Rim prequel comic continues as Duc and Kaori discover more about each other while in the Drift. There's not many things a couple can hide when they can read each other's minds. In my Geekscape interview, writer Joshua Fialkov said he's proud to have written a story that is "about the people inside the Jaeger, while still having literally eleven pages of monster fighting."