Bill Gates Announces Climate Change Group to Fund What the Government Can't
They're like the Captain Planet kids, except way more rich. 
by Sam Blum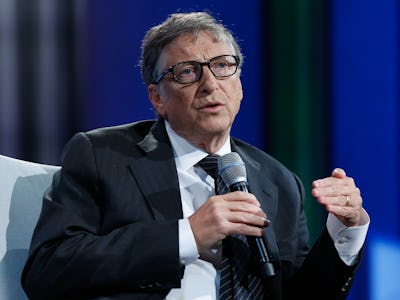 Getty
Sometimes, when tech billionaires interact with each other, it's to trade passive-aggressive potshots and invectives about competing rocket ships. Other times, they put their fortunes toward a common good, and build a coalition to fight climate change.
Announced Monday amid the backdrop of the UN climate talks in Paris are plans for the Breakthrough Energy Coalition, which will ostensibly be a consortium of the world's ultra-rich, all primed to heap loads of private wealth on climate change research.
Bill Gates, a founding member of the group alongside Facebook CEO Mark Zuckerberg, lays bare the rationale behind the Breakthrough Energy Coalition's cause in a video.
Basically, Gates says the group exists to fund what the government can't.
Calling all billionaires, Gates says:
"What we need to do is fund the kind of researchers who are looking at the early stages of these problems."
"The government's been there to fund basic research, that was true for the digital revolution, where government contracts led to the internet. But we have to pair that with people who are willing to fund high-risk, breakthrough energy companies."
Gates got tech-mogul fist bumps from Zuckerberg on Sunday, when the Facebook CEO wrote a post outlining his own intentions to join Gates:
"The Breakthrough Energy Coalition will invest in ideas that have the potential to transform the way we all produce and consume energy. As leaders prepare for the UN Climate Change Conference: in Paris this week, we hope this will encourage more partners to make innovation a priority in the fight against climate change."
Echoing all of these ideas was President Obama, who tweeted some praise at Bill Gates this morning:
There's no word on how much money has been poured into the Breakthrough Energy Coalition, but given the high-profile stature of those involved, like Virgin CEO Richard Branson, it shouldn't be starved for capital.
In effect, Bill Gates and Mark Zuckerberg will be joining the likes of Richard Branson, Jeff Bezos, Meg Whitman, Jack Ma, George Soros and other very rich people to form a bond not dissimilar to the Planeteers from Captain Planet, who routinely saved the world back in the '90s:
Going forward, the BEC will focus the majority of their investment in countries participating in the Mission Innovation initiative — an association of 20 governments that aim to significantly lower their carbon emissions in the next five years.