EPA Will Use Drones to Survey -- and Keep a Safe Distance From -- a Toxic Superfund Site
The government agency is going to release video of the giant asbestos tomb in Pennsylvania.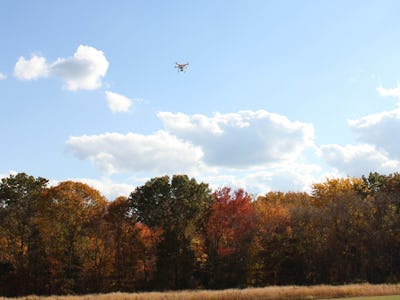 USACE
The Environmental Protection Agency will take to the skies over Ambler, Pennsylvania, to monitor where 195,000 cubic yards of asbestos — enough to fill more than 74 million two-liter Coke bottles — lies buried in the ground.
It's the first time the EPA is using a quadcopter, an ever-popular DJI Phantom, to keep an eye on Ambler, which is located 16 miles north of Philadelphia.
Making sure asbestos remains out of touch of water or air has been the modus operandi since the asbestos was buried. For 60 years, before becoming a Superfund site in the Eighties, Ambler was the asbestos manufacturing capital of the world.
Mountains of the insulation marked the factory grounds, and the toxic waste likely contributed to unusually high rates of mesothelioma in the area — 28 cases over a 16-year period, about three times greater than average for a town of 30,000 people.
To that end, a downed tree or an errant tunneling mammal could set the burial plan back. The flyover drone will allow the EPA to monitor parts of the Superfund site that are tough to approach on foot.
Though unusual, it's another application of drones and robots doing the grunt work in disaster scenarios, upping efficiency while reducing the element of human danger.
You can check back with the EPA on December 7 to view the photographs.