New Infrared Scans Offer Clues About Queen Nefertiti's Tomb 
We may know in a month if Queen Nefertiti's tomb has been found.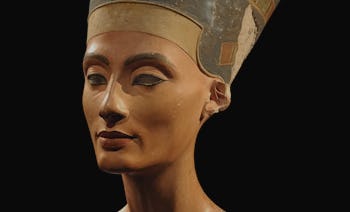 Philip Pikart
Queen Nefertiti was a mega-babe. Her titles included "Lady of All Women" and "Mistress of Upper and Lower Egypt", while her name translates to "a beautiful woman has come." Nefertiti was promoted to co-regent when her husband, the Pharaoh Akhenaten, entered the 16th year of his reign and is thought to have briefly ruled the New Kingdom solo after his death. Yet most of what we know about Nefertiti is shrouded in mystery and her tomb — let alone, her body — has never been found.
Until perhaps now — at a news conference on Saturday, archeologists announced that they are "approximately 90 percent" certain there is a hidden chamber within Tutankhamun's tomb — the resting place of the boy-ruler widely known as King Tut.
A team led by Egyptologist Nicholas Reeves hypothesizes that the tomb originally belonged to Nefertiti, and that what the world knows as Tutkankhamun's tomb is actually an antechamber to a larger burial complex.
When Reeves saw new, high-resolution scans of the walls of Tutkankhamun's burial chamber, he "tentatively identified" two linear traces of previously unrecognized doorways. He argues that these doorways could possibly lead to an unexplored storage chamber and, more tantalizing, the undisturbed burial chamber of Nefertiti.
Earlier this month, Reeves and his team did a preliminary scan of the tomb using infrared thermography and determined that different temperatures registered on parts of the northern walls of the tomb. This week, radar scans of the area revealed robust evidence that there are hollow chambers behind these walls.
These scans have been sent to a Japanese expert working with the archeology team and the analyzation should be completed in a month. After this process, the team will likely drill into the walls to see what is inside, but no timetable has been established yet for this step.
Some Egyptian ministry officials and other prominent archeologists believe firmly that Nefertiti would not have been buried in the Valley of the Kings — one reason being she worshiped a different religion that the pharaohs entombed there — but all acknowledge that a discovery like this would be incredible for the Egyptian economy.
The tourism industry of Egypt has taken a huge hit since the 2011 uprising against President Hosni Mubarak: In 2010, around 12,000 people would stand in line each day to see the ancient attractions in Luxor. As of 2012, only about 300 people would go a day.
"If we discover something, it will turn the world inside out," said Director of Antiquities of Luxor Mustafa Waziry. "And they will come."