5 Actors Besides Tom Cruise Who Should Star in 'The Mummy' Reboot 
Tom Cruise is in talks to star in 'The Mummy' reboot, which would be terrible. We ponder other choices.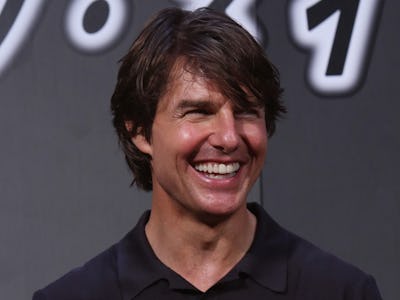 Universal wants to reboot The Mummy, and Tom Cruise is in talks to star.
This is a bad idea for several reasons, mostly because Tom Cruise is not interesting to watch and is an incredibly creepy human — sorry, thetan. Here are five human actors who are interesting to watch, have headlined films to lucrative results, and would be much, much better at stepping into Rick O'Connell's pyramid-dust filled shoes.
1. Josh Hartnett
If you still think of Josh Hartnett as a late-'90s pretty-boy with questionable taste in projects (Pearl Harbor, really?), abandon your preconceived notions. As a wild-west gunslinger with charisma, pathos, and secrets to spare, he's never been better than he is on Showtime's Penny Dreadful — which incidentally also uses Universal's old-school monster fare. Plus he's got a killer good-ol'-boy drawl, which isn't integral to the role but would sure spice it up. He would embody O'Connell far better than Cruise.
2. Jack O'Connell
Aside from sharing a name with the titular character (plot twist, they're related!) Jack O'Connell has a look that passes for every man in Hollywood, much like Brendan Fraser used to. But more importantly, O'Connell is captivating to watch. Although Unbroken was underwhelming overall, his performance in it was nothing short of a breakout. Give the O'Connell reins to another O'Connell who deserves it.
3. Nikolaj Coster-Waldau
As Jaime Lannister, Coster-Waldau is a great actor with a lot of range — and he rocks the covered-in-dirt-and-blood look. Unfortunately, he's made some questionable choices in his downtime from Game of Thrones. His film projects have ranged from lame rom coms to even lamer preposterous mythology epics. Give him a real movie to shine in and he will.
4. Jamie Dornan
Dornan is best known for being in 50 Shades of Grey, which is incredibly unfortunate for both the world and him, as he so clearly instantly regretted his own involvement in the franchise — and is just as clearly unused to PR — that he's hilariously compared it to Hitler. But Dornan can actually act, as you know if you've seen the excellent BBC serial killer drama The Fall. Like Nikolaj Coster-Waldau, he just needs better scripts to show his chops.
5. Charlie Hunnam
Like Josh Hartnett, if you only know Charlie Hunnam as a handsome face who was pretty bland in movies like Pacific Rim, forget that. He's one of the most underrated working actors today, and his ability to slide between menace and charm is second to none. Plus, his face has a chameleon quality — he can easily play much older or much younger than his age, depending on the state of his beard. If he's not too busy with Guy Ritchie's insane King Arthur franchise, he would make a great Rick O'Connell.
Bonus number 6: Natalie Dormer
Kicking ass, taking names, and rocking the same haircut she does in The Hunger Games. Because nobody could say they wouldn't watch the fuck out of that.
If Universal wants a Rick O'Connell who is blander than even Blandan Fraser, then by all means, go with Cruise. But if they want to make this Mummy reboot an improvement — and isn't that the whole point of a reboot? — please for the love of Anubis, Universal, don't pick Tom Cruise.