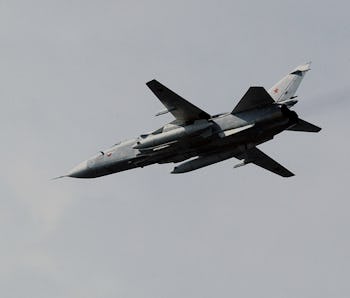 Culture
Turkish Military Shoots Down Russian Jet After Warning It to Leave Airspace
Turkey says it was in the right to attack the Russian SU-24 fighter jet after it was alerted 10 times of its violation.
Mashley Morgan/Flickr
Russian President Vladimir Putin has warned the Turkish government that there will be "significant consequences" for the attack on a SU-24 fighter jet, which led to the demise of the pilot. On Tuesday, the warplane was shot down near the Syrian border, an action Turkish officials say was necessary to protect their border.
"We want the international community to know that we are ready for any kind of sacrifice when the security and life of our citizens and our border security are concerned," said Turkey's Prime Minister Ahmet Davutoğlu in a statement. "The downing of a jet that had violated Turkish airspace today has to be seen in this context."
The Turkish military has said that the plane was warned 10 times in five minutes after it penetrated Turkish airspace above the province of Hatay.
"We warned them to avoid entering Turkish air space before they did, and we warned them many times. Our findings show clearly that Turkish air space was violated multiple times. And they violated it knowingly," a senior Turkish official told Reuters.
The Turkish government has officially been warning Russia to stay out of their airspace since October. NATO has previously stated that they do not believe that Russian incursion into Turkish airspace has been accidental. After today's incident, NATO has announced a meeting at Turkey's request.
Every nation has complete and exclusive sovereignty of the airspace over its territory — meaning that each country has the right to regulate what aircrafts fly into that space. If planes like this Russian fighter jet want to enter foreign airspace, they are required to [identify themselves](https://www.usnwc.edu/Research—-Gaming/China-Maritime-Studies-Institute/Publications/documents/Dutton-NC-1st-proofs-(9-29-09) and be subject to the air traffic control of that nation. This was reestablished in 1944 as international law at the Convention on International Civil Aviation in Chicago.
While Turkey has published radar images as evidence for its right to attack the jet, Putin still decrees the action as a "stab in the back."