Steve and Nancy Carell's 'Angie Tribeca' Set to Give Nic Pizzolatto a Comedic Wedgie
Everything we know about TBS' upcoming Rashida Jones-starring cop show parody.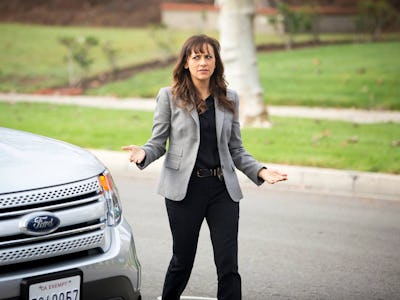 Prestige-y crime procedurals are on the rise. British imports from Broadchurch to Hinterland to The Fall — a bit racier than your average PBS Masterpiece entry — clog your "Recommended on Netflix" cue. Similar intrigue wafts through TV listings every season, but no shadow has loomed as large as Nic Pizzolatto's HBO franchise True Detective — a watercooler sensation in its McConaughey/Harrelson first season, and the most ridiculed show on television in its second. In some sense, it seems like we've mocked True Detective to death. So with the TD-parodying previews that have recently surfaced for the Steve and Nancy Carell-penned, Rashida Jones-starring TBS modern cop show send-up Angie Tribeca, it almost seems like kicking Pizzolatto while he's down.
But the modern, existentially fraught procedural is something no one has taken to task with a committed spoof. With the focus on prestige dramas bubbling over to the point of oversaturation, it almost seems crazily overdue.
Tribeca is set to premiere in the most ridiculous fashion possible: a 25-hour marathon of its 11 seasons. That is, the format of the series — like True Detective — will be anthology-like: Each episode is one completely new season.
The PR is straight-faced, and as the cast has mentioned in interviews, every situation on the show is played with deadly seriousness. The imdb description reads: "From the twisted minds of Steve and Nancy Carell, Angie Tribeca is the greatest drama of our generation. Breaking ground and changing the television landscape, this epic series is mind-blowingly raw, gritty and unapologetic."
In the teaser preview — which premieres January 17th in 25-hour marathon form, and enters once-a-week rotation on January 25th — additional TD-esque flourishes crop up: dramatic overhead shots of the city and tense tableaus of SWAT team standoffs, in particular.
Another teaser is even more explicit, mocking True Detective Season 2's noir-Cat-Power lounge singer with its soundtrack.
An older preview from last year, on the other hand, makes the tone seem much goofier:
What can we expect from Angie Tribeca? A good swatch of cameos, it looks like — the most promising seen in the previews being Keegan-Michael Key and Lisa Kudrow. The Naked Gun for the era in which the serial drama dominates visual entertainment — silly as all hell. An untested team of perennial sideman and oddball Jere Burns, Conan staple Deon Cole and stand-up and actor Hayes MacArthur star alongside Jones. No guarantee of chemistry here; best we can hope for is a supporting cast that steps up to the plate because they're excited about the opportunity.
Also, whether this group will even have a consistent script to work off of remains to be seen. Steve Carell's most notable writing credits are on The 40-Year-Old Virgin and the short-lived Dana Carvey Show, so there's not a ton of precedent for these goofs — also, Tribeca is Nancy Carell's first writing project. Chances are this will be a spotty but entertaining ride — as the trailer for the 25-hour marathon puts it, something that's at least "worth binging."