Anonymous Sends Warning About Potential ISIS Attacks Around the World on November 22
From Paris to Atlanta, Anonymous says ISIS may be planning more attacks.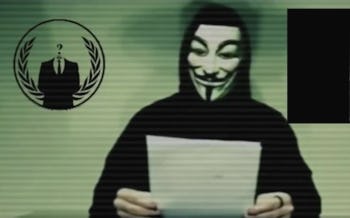 UPDATE 9:05 p.m. Nov. 21: Reuters is reporting that the F.B.I. evaluated the Anonymous tip about a possible attack in Atlanta and determined it wasn't credible. Anonymous' OpParisIntel group has removed its original post, saying that it had succeeded in alerting authorities and preferred not to stir further fear. "We thank those who helped us inform the authorities," the post now reads. "We stand by our motto for this project: Better safe than sorry."
According to a new post by Anonymous, their OpParisIntel group has uncovered information about possible attacks ISIS has planned for Sunday, November 22, 2015.
In the days since the horrific terror attacks on Paris, Anonymous has vowed to fight back against the terror network by thwarting ISIS' online presence. So far, Anonymous has taken down thousands of ISIS-related social media accounts, and now they're trying to alert civilians about possible threats around the world.
On the post, Anonymous writes that they had warned officials about the attacks prior to publishing the information for the public. However, since there haven't been any official warnings about the potential for future attacks on Sunday, they've decided to take their intel to the people:
"All proof was submitted to official authorities all around the globe days ago. They have it and it is their responsibility to do something with it. But because they have not done anything with it yet and it's almost the 22nd, we have matters into our hands. We only take the responsibility of warning civilians (incase the authorities do not act well enough)."
Here's a list of the events and places that Anonymous received information about:
Demonstration by the "Collectif du Droit des Femmes" (Paris)
Cigales Electroniques with Vocodecks at Le Bizen (Paris)
Concrete Invites Drumcode: Adam Beyer, Alan Fitzpatrick, Joel Mull at Concrete (Paris)
Feast of Christ the King celebrations (Rome/Worldwide)
Al-Jihad, 1 Day Juz (Indonesia)
Five Finger Death Punch (Milan, Italy)
University Pastoral Day (Holy Spirit University of Kaslik, Lebanon)
WWE Survivor Series (Atlanta)
Anonymous has not posted any further information about the nature of the threats, but it appears as if U.S. authorities have been looking into the WWE Survivor Series event at Atlanta's Philips Arena.
Neither the FBI or WWE have officially responded to the news yet.
In releasing this information about November 22, Anonymous hopes to create more awareness of the potential threats. They've even come up with a couple hashtags to help disseminate the information on social media: #22Daesh and #OpParis.
Anonymous also points out that "threats" aren't the same as "plans," and that while some threats look like plans — that doesn't necessarily mean they'll be executed.