Model S Stands for Seatbelt: Tesla Recalls Every One of the Cars
The owners of some 90,000 Tesla cars got emails saying their seat belts might come loose.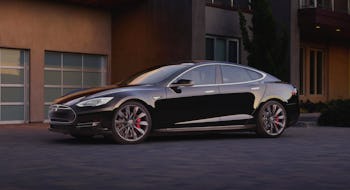 Tesla
It's a good day to be any other carmaker than Tesla or Volkswagen.
In an email sent to owners of the Tesla Model S, the carmaker says that the seatbelt "was not properly connected to the outboard lap pretensioner," and that it would would voluntarily recall all 90,000 sedans.
It stems from a single case in Europe: "This vehicle was not involved in a crash and there were no injuries. However, in the event of a crash, a seat belt in this condition would not provide full protection," reads the email from the Palo Alto, California-based company.
"In early November, a customer sitting in the front passenger seat turned to speak with occupants in the rear and the seat belt became disconnected," a Tesla representative told financial website Bloomberg news. "The seat belt is anchored to the outboard lap pretensioner through two anchor plates that are bolted together. The bolt that was supposed to tie the two anchors together wasn't properly assembled."
Tesla began to deliver the sporty Model S to customers in June 2012.
The drastic move by Tesla isn't out of character for the company that emphasizes safety from the top down: Founder Elon Musk led the presentation of the Model X — the Tesla SUV (the one with the falcon doors) — back in September with all of its various safety features. Some might have thought he buried the lede (the falcon doors), but with the debut of Autopilot back in October, it's clear that safety is right behind efficiency for the electric carmaker.