Two Blockbusters Enter, One Leaves: This Week's Box Office Predictions
Will the latest Bond movie or Katniss Everdeen's last stand make it to the top at the movies this weekend?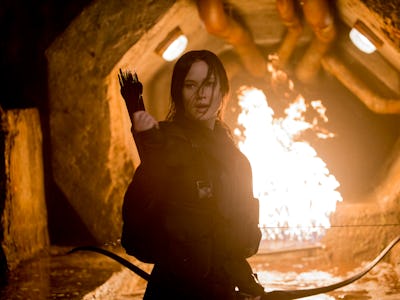 Lionsgate
Face it, there's nothing to do this weekend except go to the movies. Right? Next weekend you'll be stuck with family after Thanksgiving. This weekend, though, it's your choice. So choose a matinee. Choose a big fucking screen. Choose a good parking spot, popcorn-and-candy combos, sneaking into a second showing for that DIY double-feature. Choose one of these matching blockbusters here to pin your ears back against your scalp. Here's what we think you and millions of other people will ultimately choose.
What Will Win: The Hunger Games: Mockingjay - Part 2
The odds are ever in this movie's favor. Bond's two-week reign at the top of the box office is kaput. The last hurrah of Katniss Everdeen is a lock for No. 1 this weekend: This is an unstoppable mega-franchise and Spectre — like the franchise — is aging. Part 1 of Mockingjay stands in last place among Hunger Games movies' earnings, but franchise fatigue shouldn't be a factor here. Reviews are fairly positive, and we're big fans of it too, so it has the positive word-of-mouth Spectre lacked when it opened three weeks ago. Match that with Jennifer Lawrence's star power and Mockingjay - Part 2 is looking pretty good. All three previous Hunger Games movies opened to $100 million opening weekends, and this should do the same.
What Will Disappoint: The Night Before
There's a chance Seth Rogen's holiday bacchanal The Night Before could manage second place, but Bond is hard to beat. Rogen's past hits have made him a comedy juggernaut, with movies like Neighbors and This is the End pulling in more than $100 million apiece. The marketing strategy for the movie is definite comedy counter-programming with nice-guy favorites Joseph Gordon-Levitt and Anthony Mackie, but it probably doesn't have enough steam to beat out two event movie franchises. Still, the $10-15 million it should earn this weekend ain't bad.
What Will Surprise People: Spectre
People love James Bond. It's a bulletproof franchise, and last week marked Daniel Craig's smallest second-weekend drop in grosses as 007. While Spectre may not have the staying power of the universally praised Skyfall, it's still breaking records all around the world. Hunger Games might dethrone it, but if The Martian taught us anything it's that people will buy tickets to a spectacle. There's a chance that the last Hunger Games movie could take some of the audience away from Spectre, but it should still be able to hold on for No. 2.
What's On the Horizon: Krampus
With Sam Raimi M.I.A. the world is running low on perverted horror comedies. But the demented holiday-themed Krampus, even with its PG-13 rating, has a trailer that suggests director Michael Doherty — the mind behind the underrated Halloween-themed horror anthology Trick 'r Treat — is going all out with his evil-anthropomorphic-goat-beast-from-hell movie. Choose anticipation.