Why the 'Selfie-Drone' Project Finally Crashed
Record-breaking Kickstarter a titanic failure.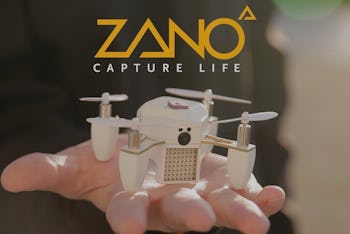 Kickstarter/Zano
A selfie drone seems fairly clever — you get more flexibility than a stick without the risk of bodily harm. Some 12,000 people in Europe thought so, too, backing a Kickstarter for the Zano, a small drone created by Torquing Group Ltd, to the tune of £2.3 million (about $3.5 million).
The "world's most sophisticated drone," however, will see neither flash of smile nor light of day: On Wednesday, Europe's most successful Kickstarter liquidated.
Salvaging the Zano doesn't seem possible, particularly considering early reports that the drone couldn't deliver on its technical promises. The device, as displayed in its demo video, looked ambitious, offering a sparrow-sized camera drone controlled effortlessly by smartphone.
But when the BBC visited Zano's headquarters for a demo in August, the drone couldn't find a GPS signal to fly outside, took poor quality images, struggled to hover, and had a flight time of about 5 minutes — a third of what Torquing wanted to achieve — before running out of battery power. The 10-person tech team appeared overwhelmed by both the demand and challenges of fitting what it wanted in a small package.
In a message to backers, according to Ars Technica, Torquing wrote:
"Having explored all options known to us, and after seeking professional advice, we have made the difficult decision to pursue a creditors' voluntary liquidation. All creditors will be contacted by an insolvency practitioner next week.
"We are greatly disappointed with the outcome of the Zano project and we would like to take this opportunity to thank everyone who has supported us during this difficult period, especially our loyal employees whose commitment has exceeded all expectations."
There were a few signs of trouble, beyond the technological shortcomings — the summer shipping date for the $250 drone came and went; the CEO resigned in early November, citing health issues and "irreconcilable differences." But as recently as October, the company wrote on its Kickstarter page, "We now feel we have all of the internal and external processes in place for us to successfully dispatch 200 ZANO's per day."
There are no real winners in this scenario; even Kickstarter — which, to the dismay of people who fronted cash for the Zano, still gets its 5 percent fee — but is now coming under fire from backers who feel the crowdfunder didn't do enough to vet the project.