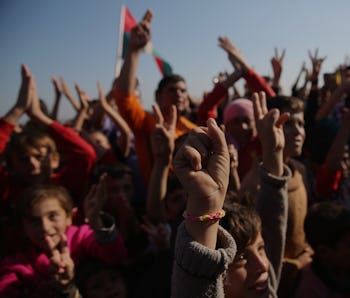 Innovation
'Google Fortunetelling,' a Prank One-Off Website, Is Pretty Great
The site is very necessarily disguised.
John Moore/Getty Images
Google Fortunetelling is a brand website that will predict your future. Just type in your question and you're ready to go.
It looks sort of like Google:
Then, all of a sudden, you try to ask when Jenny will finally say yes to the prom. But instead of letting you type, Google Fortunetelling asks a single question for you:
"Where can I find a safe place?"
Strange, but you go with it and hit enter.
That command brings you to a page about refugees. No, that's because Google Fortunetelling is actually an awareness project about the current Syrian refugee crisis.
In all caps, the site tells you: "OF COURSE WE CAN'T PREDICT YOUR FUTURE!" And then:
"But 60 million refugees ask themselves every day if they have a future at all. So we used a fake Google-site to get your attention because apparently you were interested in your own future. Please take a moment to think of their future."
From there, you can check local initiatives, donate to charity, and share the campaign on Facebook and Twitter.
It's an innovative way of bringing awareness to an issue that will only grow more pressing following the recent terrorist attacks in Paris.
Jort Boot, one of the site's creators, provided the following statement to Inverse about the project:
"We started this campaign because we wanted to create awareness about this big problem in Europe. We tried to let people feel that their own future at this moment is not more important than the future of a refugee.
"When a visitor uses this website, they will be confronted with their own selfishness. Because we used a fake Google site, we got worldwide attention because all people are interested in a new feature from Google and Google is worldwide known. The reaction so far is amazing: this campaign went viral and had worldwide impact! Everyone who has seen this website shared it on social media."