This Fan-Made 'Force Awakens' Trailer Is Better Than the Real Thing
A YouTube user 'sweded' the best homemade trailer we've seen in a while.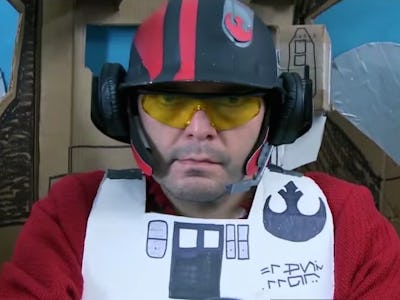 YouTube.com
A new Star Wars trailer just hit, but it isn't any official new footage. A YouTube user named Dumb Drum just posted a shot for shot ( or "sweded") remake of the most recent full trailer for The Force Awakens. As amateur recreations go, this one may top the list.
The thing is full of as much DIY charm as there is cardboard. From the makeshift TIE fighters and X-Wings, to the badass backyard swirling shot with Finn and Poe, to the blue light-up hues of hyperspace, we're still trying to figure out how these guys managed to do all this. It manages to capture the spirit and wonder of the multi-million dollar original while costing probably less than, like, half that amount.
Check out the real trailer below:
We're excited about The Force Awakens to hit theaters on December 18, but a feature length sweded version made by Dumb Drum and his pals would make a hell of a double feature. If you don't believe just how good these trailers matchup, here's a side-by-side look at both.