Tesla's Gigafactory in Nevada Will Be Second-Largest Facility in the World
The sprawling facility will produce energy efficient lithium ion batteries for a projected 500,000 Teslas a year. 
by Sam Blum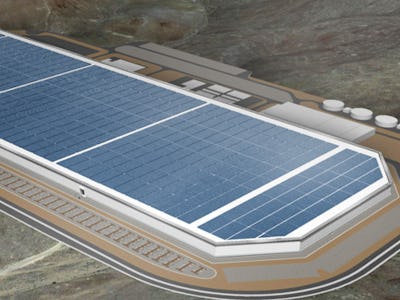 When Elon Musk announced that the Nevada desert would serve as the backdrop for his sprawling Tesla Motors Gigafactory, Brian Sandoval, the state's governor, heralded the achievement as "great news for Nevada!" Which, yes, but he also noted noting that a projected "one hundred billion dollars" would make its way "to the Silver State over the next twenty years."
Sandoval's politically motivated focus on the minutiae of state business activity and prestige sells the Gigafactory short: The inner workings of the building have been revealed, and Musk says the sprawling $5 billion facility will be the world's second-largest production plant, second only to Boeing's airplane assembly building in Everett, Washington.
About 3,000 acres outside of Sparks, Nevada will provide ample room for the 13.6 million square-foot Gigafactory, which will be the largest manufacturer of lithium ion batteries in existence.
Tesla fans should already know about that last tasty nugget however, as Musk noted in November 2014 that the eventual factory won't just be the biggest manufacturer, but that it'll "be bigger than the sum of all lithium-ion battery factories in the world," outproducing many companies based in China, Korea, and Japan.
The Gigafactory's location on the western edge of Nevada should provide the strategic, straight-shot route to Tesla's automotive factory in Fremont, California, which sits on the fringes of larger communities in the Bay Area, like Oakland and Berkeley.
First announced by Musk in in September 2014, the Gigafactory will be the sole producer of batteries for a projected 500,000 Tesla vehicles produced a year — which is the ambitious benchmark Musk set for the company in 2014. Its walls will also be covered in gleaming solar panels, intended to at least partially power the facility.
Capable of housing 6,500 employees, the facility should be a completely functional entity by 2020. It will also produce batteries for domestic and commercial use, such as the Powerwall — which should enable private homes to become completely sustainable, by relying on their own energy sources, separate from the grid.
In September, drone footage captured the sheer scale of the building in its nascent form.
The video's melodramatic soundtrack should heighten the factory's jaw-dropping effect: