Production Designer Eve Skylar on the Horrifying Short Film 'La Noria'
When rendered, scares are about patience.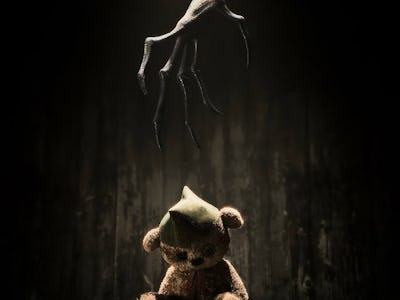 La Noria Film
The following article by Victor Fuste originally appeared on Zerply, the platform for finding creative production talent.
La Noria is an animated short film directed by filmmaker/animator Carlos Baena and produced as an online collaboration with artists from around the world. Visit the Indiegogo Campaign page for more information about the film and how to contribute.
Briefly, describe your role on the project.
I had the honor of being the first artist on board the project and subsequently became the production designer for both Carlos' short films, "La Noria" and "Market St."
How did you first connect with the director, Carlos Baena? What was it about the project that drew you in?
I met Carlos four years ago at the Alternative Press Expo when he stopped by my painting series called "Skyace Wasteland," about a girl who uses her imagination to survive. We connected over the dark, but hopeful theme. On the spot, he pitched an idea that he had been working on, an incredible and unforgettable story that became La Noria – it was haunting, beautiful, vulnerable, and honest. Very rarely will you find a story that impacts you to the core – and La Noria was one.
The story of La Noria has a deep universal theme. I think at some point, all of us – especially artists – can relate to finding ourselves in a dark place and having to deal with demons. I believed in Carlos' vision and wanted to test the boundaries of the animation genre, to push darker storytelling while bringing in some of the more visceral cinematic scope and lighting qualities of live action.
From my conversation with Carlos Baena, the film is heavily influenced by the films of directors like Guillermo Del Toro and Alejandro Amenebar, among others. How do you translate the tone and style of those films into an animated film?
The process was very much a collaborative effort as we had industry friends and colleagues who joined the team and through combined experiences (and trial and error), we strived to blend the cinematography, rendering techniques and tone of live-action with the world of animation.
Early on, the story was set in 1930s Spain. So we immersed ourselves with films and inspirations featuring that era and mood. We looked at films such as Pan's Labyrinth, El Espíritu de la Colmena, El Orfanato, The Others, Let the Right One In, among many others. We distilled what we loved about those inspirations in live action films. It was the cinematic lens, depth of field, bokeh effect, lighting, textural material quality, color palette, and moods. We tried to incorporate those elements while still keeping the stylized proportions and feel of animation.
While researching 1930s Spanish architecture, I came across the set design work of Carlos Zaragoza, who created the memorable Pan's Labyrinth gate ruins. I told Carlos B. that it would be a dream come true if we could get Carlos Z. to join us. We found out that he lived a few blocks away, so we pitched our film and we are very grateful to have both Carlos Zaragoza and Aurora Jimenez of Tale Twins onboard the project. With their extensive experience and aesthetic of Spanish architecture and mood, they defined the set design and the visceral authentic world of La Noria.
How was working on this film different than say, working on a studio feature film?
Time, resources, and full creative freedom is a huge difference. Because early on we were not under the pressure of a specific release date, we were able to take our time, explore, and let the story and aesthetic of the film mature organically. Since our artists are from different parts of the world, it brings to the film new perspectives and ideas, and this project is defining a new way of collaborating online. In an independent production with an organic pipeline, I found myself wearing multiple hats and fluidly moving from one role to another – it makes for a fast learning curve, positive challenge, and better appreciation for all aspects of a film production.
But time and resources is also a double-edged sword in independent productions – because most of the artists have full-time industry jobs outside of this project, the project is as far along as time allows for each individual. Which is why we launched the Indiegogo campaign to help us finish what we have started years ago by Spring 2016.
What were the most important aspects of the production design and art style that you tried to keep in mind as you worked with different artists?
To infuse the live action quality while keeping it in the animated world, the most important aspects to keep in mind was cinematography, shape language/ stylized proportions, textural quality, and color styling. The depth of field and lighting would give us the cinematic quality that we love from live action, but the shape language and stylized proportions would keep the film in the animated world. The color styling is a bit more realistic and desaturated than most animations, but still saturated enough away from the uncanny valley. For the textural quality, Carlos Z. and Aurora introduced the authenticity of materials: wrought iron gates, intricately carved aged wood, and beautiful lighting from stained glass texture.
Carlos B. has a miniature merry-go-round music box made out of wood from Spain that he's kept for many years, it's got dust, chipped edges, beautiful aging, and hauntingly beautiful melody – that piece has also been a huge inspiration and reference for the art team in terms of quality and feel for the film. In terms of animation, it was very important that the internal complex emotions was portrayed with subtlety of facial reactions and depth through the eyes.
Your team was spread across the world, often working remotely from different countries. How many total artists contributed to this project, what countries did they hail from and how did you manage to wrangle all the moving parts?
We have had artists come and go depending on what their schedule allowed. We currently have about 30-45 active artists, but the number of total artists is harder to pin down: counting storyboard artists, 2d and 3d art team, and previs artists that have completed preproduction for us, as well as industry friends that gave us their energy and advice, that number is more closer to over 75 in the three and half years. Some contributed what precious time they had, some contributed for a long duration of time, but the film would not be where it is today without each and every one of them – so we are very thankful to everyone who has had a hand in this project together.
The artists on board is an international team from all over the world, from countries such as Spain, Italy, France, Sweden, China, Taiwan, Indonesia,Iran, Germany, UK. Australia and United States.
Carlos, Sasha Korellis, our Producer, the management team, and the Leads work very hard in keeping all the moving parts going. Our official sponsors were Artella, Autodesk and SolidAngle, so we were able to establish a solid pipeline and manage the project, tasks, artists, and assets online.
What was the biggest lesson you learned from working on this project? As an independently produced and funded film, what advice would you have for other artists who might be interested in pursuing their own project?
The things to consider while pursuing your own independent project are mainly your resources (time, finance, people). It's good to have a realistic assessment of what you have on your hands and what you need, but at the same time not to hesitate too long before making a film. You will never be "ready" enough. You will learn on the go. I think there is a myth that we need "x, y, z…" before we make a film, though that is very true on some levels, I also come from a DIY background and you can make a film starring your best friend in your apartment, shot on a borrowed iphone with a makeshift dolly…just make the film somehow, in the best way that you can. And that best can mean taking years, using up all your savings, and asking everyone you know. But the reason we do it in the first place is because we love filmmaking and we had to tell a compelling story. And at the end of the day, you just have to trust your gut and trust the creative process in making a story that you would personally want to see, a story that speaks to you.
In terms of practical advice, I try to follow James Altucher's motto: "try to be the stupidest person in the room." Hire and work with people who are smarter and better than you. You will learn a lot, you will fail a lot, but the film will really benefit from having the incredibly talented people do what they are best at. And don't be afraid to look like a fool or to ask anything.
Personally, I learned a lot just by watching Carlos and Sasha – they are incredibly resourceful, passionately creative, open to trying new ideas, and unafraid to risk failure to go after a vision. But the biggest lesson these past few years was that I learned how to fail, fail often, fail miserably, fail so that you exhaust all avenues, fail so that you fall down the depths of the rabbit hole, fail so that you strip away all pretenses and get to the core of why you're making the film, and when you are at your darkest hour, it is often there that you will find a sliver of inspiration, the strength to go on just a little further, a little voice that says, "there can still be something beautiful." – which is, in essence what La Noria is all about.
To contribute to the creation of La Noria, visit the Indiegogo campaign page. For more information on Eve Skylar, visit www.eveskylar.com