Watch Bill Murray Get Stuck in New York in a Netflix Christmas Special
The trailer for the Sofia Coppola-directed 'A Very Murray Christmas' just dropped. It looks like fun.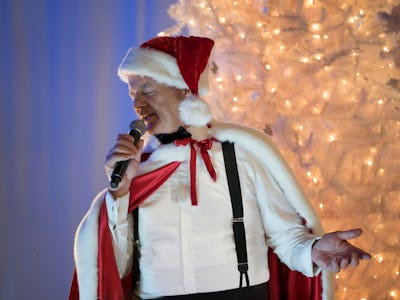 Ali Goldstein/Netflix
Who knew this would be the movie that re-teams Bill Murray and Sofia Coppola after Lost In Translation? Netflix just released the trailer for A Very Murray Christmas, a throwback variety show homage directed by Coppola, starring Murray, and enlisting a gaggle of celebrities. It will premiere on the streaming service giant on December 4.
From what we can glean from the trailer, Murray does his lounge singer schtick with Paul Shaffer from the SNL old days before being snowed in at New York's Carlyle Hotel. After failing to get the hotel's staff to get in the holiday spirit, Murray invites other celebrities in the hotel like Amy Poehler to lighten the mood and pine for something magical to happen for the holiday, like George Clooney showing up.
Eventually, through a haze of food and a large helping of booze, other people brave the blizzard to join the holiday madness: Michael Cera, Chris Rock, Maya Rudolph, Jason Schwartzman, Jenny Lewis, Rashida Jones, Miley Cyrus.
The special seems fairly random, but Bill Murray is the king of doing random things that he just up and decides to do one day, so we can't say no to that. Add Coppola into the mix and it makes it one of those bizarre things only Netflix seems to cook up every now and then.