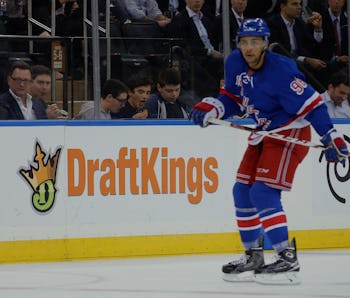 Mind and Body
Why Aren't Fantasy Sports Sites Legal in New York?
A state senator from New York wants to legalize the websites after the state's attorney general banned them.
Bruce Bennett/Getty Images
Last week, New York Attorney General Eric T. Schneiderman ordered DraftKings and FanDuel — two leading daily fantasy sports websites — to stop accepting entries from New Yorkers. Today, New York State Senator Michael H. Ranzenhofer introduced a bill to the Senate in response to Schneiderman's ban.
The bill, S06092, would forego regulation of daily fantasy sports sites and simply legalize them because, as he sees it, they're not gambling.
Despite overwhelming evidence to the contrary, Ranzenhofer insists in the bill "that fantasy sports team activities are games of skill rather than games of chance."
The bill, which you can see courtesy of Legal Sports Report, uses the term "contest of chance" to provide an idea of what daily fantasy sports sites are not. Ranzenhofer's bill states, "all prizes and awards offered to winning participants are established and made known to the participants in advance of the game or contest and their value is not determined by the number of participants or the amount of any fees paid by those participants."
Well, gamblers at a slot machine, presumably, know how much they can win and that's still gambling. In addition, the DraftKings and FanDuel controversy came about in October for the exact reason that, yes, the number of participants did affect game outcome. (Employees used insider knowledge to use different lineups from regular gamblers to give themselves the best chance at winning with a unique lineup.)
It gets even harder to not call daily fantasy sports gambling when, as John Oliver revealed during Sunday's Last Week Tonight, DraftKing itself actually used "betting" as a search keyword. That's pretty close to an admission.
What Ranzenhofer's bill does seem to get right, however, is that the state is simply being an old fuddy-duddy by continuing to ban and regulate gambling: "Time and time again, New York has stood in the way, whether by overregulation or outright banning of activities that are legal and enjoyed in most states across the country," reads the bill.