EA Access Users Can Play 'Star Wars: Battlefront' Right Now
Subscribers to EA Access on Xbox One can get to shooting and force-choking before the rest of the world.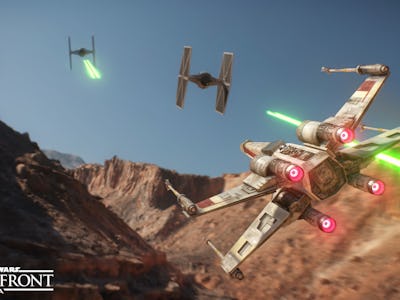 EA Games
While Star Wars: Battlefront will be formally released on November 17, EA Access users can download and play the game right now. This second. What are you even doing?
Exclusive to Xbox One, EA Access is a premium membership at $5 a month to try out EA games ahead of time, with the option to buy it at a 10 percent discount at release. Players can keep all stats and progressions after purchase, so it's really like renting it and buying it from Blockbuster after a week. (Side note: Remember Blockbuster?)
EA Access also comes with playable access to EA's gaming library, but who cares when Battlefront is an option at this very moment.
Despite the beta underwhelming last month, Battlefront remains one of the biggest games to look forward to this season. It's the virtual fantasy fulfillment Star Wars fans have yearned for, if the game's ads didn't get that idea across.
Star Wars: Battlefront will be released November 17 for the PlayStation 4 and PC, and the Xbox One right now, in a way.