Play 'Star Wars Battlefront' in Beta Mode on October 8
We're getting a preview of the game Star Wars fans will be playing until the latest movie comes out in December.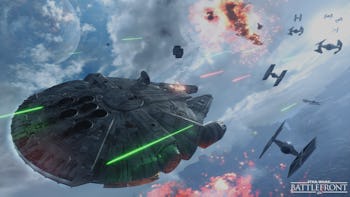 Electronic Arts
Video game Star Wars Battlefront is going to keep us occupied before and after December 18 when the entire world goes to see The Force Awakens (84 days). But while the final version won't be released for Xbox One, PlayStation 4, and PC until November 17, anyone can play a not-so-final version starting October 8, when the open beta is made available.
Electronic Arts have revealed that the open beta, as per usual, is to give the developers at DICE a chance to make any necessary fine-tuning and polishing based on feedback from gamers who will probably spend the better part of the next four years playing it.
The Beta will make three select modes available for early testing:
Walker Assault on Hoth: Fight in epic 40-player battles as a Rebel to destroy the Empire's onslaught of AT-AT's by calling in Y-wing bombers. Or, side with the Empire and protect your walkers while utilizing their mighty weaponry to crush the Rebel objective.
Drop Zone on Sullust: Escape pods are crashing down and you and your team must fight to control them. With its frantic 8v8 matches, Drop Zone is sure to put your combat and strategy skills to the test.
Survival Mission on Tatooine: Play alone or with a friend via co-op or split-screen as you battle to hold off waves of Imperial forces including AT-ST's, TIE fighters, elite stormtroopers and more.
In addition to the Beta, the "Battlefront Companion Experience" will also be made available. A strategic card game Base Command lets Star Wars gamers earn in-game credits that unlock weapons and other sweet stuff for use in Battlefront as well as track progression, stats, connect with friends, and set custom loadouts and character skins.
BTW, this is "Walker Assault" mode:
It's okay if you're a little excited.