Leia Organa Won't Be a Princess In 'The Force Awakens'
Director J.J. Abrams has given Luke's sister a military promotion.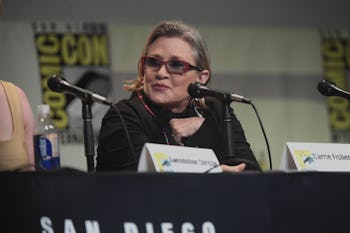 Gage Skidmore | Flickr Creative Commons
According to director and co-writer of Star Wars: The Force Awakens J.J. Abrams, Leia Organa is no longer going to be referred to as "Princess."
Generations of Star Wars fans best know the character portrayed by actress Carrie Fisher in the three original films as Princess Leia—but Abrams tells Entertainment Weekly that in The Force Awakens "She's referred to as General…But … there's a moment in the movie where a character sort of slips and calls her 'Princess.'"
At this time, little is known concerning what role Leia will play in the sequel to Return of The Jedi, but Abrams went on to say "The stakes are pretty high in the story for her, so there's not much goofing around where Leia's concerned…"
Fisher describes Leia in Awakens to Entertainment Weekly as "Under a lot of pressure. Committed as ever to her cause, but I would imagine feeling somewhat defeated, tired, and pissed."
Star Wars: The Force Awakens will be released to theatres on December 18, 2015.