John Hendrickson of 'Esquire' Has All the Hot Bob Vila Tips | MEDIA DIET
He's trying to read real paper, people.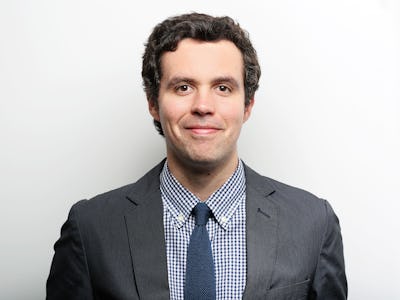 Esquire
Like so many people in the media universe, it's hard to figure out where John Hendrickson's job ends and his personal leisure time begins. As the news editor of Esquire.com, Hendrickson is pretty plugged in — even though he tries to stiff-arm screens when he can. "I load up my Twitter feed just as I'm walking out of my apartment. I like to glance at it for the first 10 minutes or so that I'm on the train," Hendrickson says, from the Esquire offices. "If I come across anything that I'd like to read at my desk, I take a quick screenshot." No wifi? No problem!
Hendrickson — who, full disclosure, I know from his days at The Denver Post; I also write for Esquire from time to time — settles into his weekday right away. "Right as I'm getting on the train, I always take a quick glance at the tabloids: The covers of the New York Post and the Daily News," he says. "It's entertaining but it's also a great part of the routine in the morning. It's like having a cup of coffee."
During his 30-minute train ride he tries to "spend the bulk of it reading print," whether it's leftover sections of the Sunday Times, New York magazine, Esquire (plug), or his girlfriend Emily's Vanity Fair. He'll also print out articles his friends recommend; he tries to keep to print on nights and weekends. "It's like a homework assignment, but it's pleasurable also," he says. "It gives you the chance to focus on one article at a time. It's like a commodity, a vacation almost."
At work, the floodgates to "the river of Twitter" get opened up on Tweetdeck and "it's going on all day." He namechecks a slew of people he digs on Twitter: David Grann, Adrienne LaFrance, Caitlin Kelly, Dave Itzkoff, Matt Flegenheimer, Dave Weigel, Desus Nice, and Bob Vila. Yes, that Bob Vila. "I get a lot of pleasure out of Bob Vila. When I first joined Twitter, Bob Vila was probably one of the first 50 accounts I followed," Hendrickson says. "I saw it on there and I was like, 'Hell yeah, Bob Vila!' It's such a great break when everybody is talking about Twitter changing the like button and you see him: 'Here's how to clean your gutters.' It's a lot of fun to retweet him, completely out of context," he says, adding, "Thank you, Bob Vila."
He regularly checks out the New York page on the Times site "Just to get some more local news," he says. "That's an interesting challenge living here and, even, being in media. Everything is national. It's hard to feel connected to a local community or ecosystem." We then bemoan the demise of City Room.
"If I'm on Gchat during the day," Hendrickson continues, "I'll typically send my buddies Clickhole links or The Onion. If I'm ever talking to a person on IM, I'll never send them anything real. It's its own language." He'll also — this sounds exhausting now — monitor The Washington Post, Deadspin, The Atlantic, and Atlas Obscura. He will also try to peep an NPR clip or two each morning, and checks "what Colbert did the night before." At the end of the day, Hendrickson gets newsletters from Gothamist, Daily Intelligencer and This. (Politico Playbook comes in the morning.)
Once Hendrickson gets home, he and Emily might "Watch an HBO show." Currently one of them is The Leftovers. He adds, "The Jinx is the best thing I've watched this whole year." What else is on the tube? "Narcos is not amazing, but not bad. If we're around, we'll watch it." A rave review. "The Last Man on Earth is frustrating but I still watch it. And, when in doubt, Law & Order reruns on very low volume, "he says. Okay. "Sunday Night Football: Of all the broadcasts, I like that one the best." Warmer. "Veep is far and away my favorite show on the air right now," he says, "I grew up in D.C. and my brother still lives there, and he can't even watch it because he says the characters remind him of too many people he knows." That's more like it.
"I've been watching The Simpsons on Sunday night at eight o'clock for 20 years," Hendrickson says. I tell him, shocked, that I haven't seen a new episode in more than a decade. "It went through a bad period, but now they've dug out of it. It's just part of the routine," he says. It follows a strict regime of reading the Sunday Times, hitting a bar to watch a game, cooking, a trip to Other Music, and watching 60 Minutes.
He calls Beasts of No Nation "amazing" and adds that he just watched The Thin Blue Line, a documentary which is "like a Coen brothers movie." So how about all of that non-screen time? "I'm currently reading City on Fire, because I'm a walking cliché," Hendrickson says of the lauded fall novel. "I saw a guy today on the train — across from me — reading it. And I looked at him and was like, 'This guy looks like me.'"
Hendrickson was the editor of Reverb, The Denver Post's music site, and he still crushes tunes. "The record that I've probably listened to the most out of anything this year is Jamie xx," he says. The new Deerhunter is "more accessible, but not in a bad way," Hendrickson believes. "That happened last year with War on Drugs." He names off bands like YUNG, PWR BTTM, Air Waves, and Parquet Court before saying, "All my favorite rock records of the year — Bully, Hop Along, Courtney Barnett — are all based around female lead singers, which is a nice change of pace." He reads a bunch of music blogs to stay hip, but has particular love for Noisey and NME. No word from Hendrickson on what musicians Bob Vila's digging.