China's 'Singles' Day' Will Be the Most Profitable Online Shopping Event Ever
Forget Black Friday -- China's shopping bonanza is the definition of "treat yo self."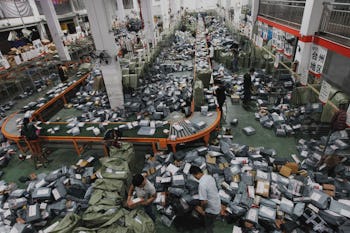 ChinaFotoPress/Getty Images
It is barely two hours into 11/11 in China — which means that if you were looking to get the best deals for Singles' Day you are probably too late. The giant online "24-hour orgy of spending" generated $1.6 billion in e-commerce sales within the first 12 minutes of #SinglesDay, culminating in $4 billion earned by the first hour. On Tuesday night, online retail company Alibaba kicked off the event with a lavish party, which included attendees such as Daniel Craig, because what says luxury like the most sensitive James Bond.
While the consumption frenzy around Singles' Day draws comparison to Black Friday, the feeling that it is more festival than online shopping comes from the event's roots. Lore is that Singles' Day started in 1993 by single students who wanted to have an excuse to buy themselves stuff — the date 11/11 representing "bare sticks" a.k.a. the sad way you'll be looking at 11 now. But not too sad because being single often equals cash-money! Alibaba commandeered Singles' Day in 2009 to promote an online shopping sale and it's been a day of financial excess ever since.
This morning, more than one million people driving across China in 400,000 vehicles began to deliver the expected millions of parcels ordered. Also known as "Double 11," the event will bring a ton of money to Alibaba — as well as its competitor, JD.com.
Approximately 100 million people are expected to shop on Singles' Day, the majority between 20 and 40 years-old, who will be shopping from their computers all across the country. Economists hope the event will act as a thermometer for the Chinese economy, which has slowed in the last quarter.
Only 27 merchants took part in the first Alibaba-sanctioned Singles' Day, while 27,000 merchants were involved last year. This year has a record number of international brands participating — Uniqlo, Nike, and Topshop among them. Companies like Macy's and Sainsbury's don't have physical locations in China but are still offering promotions through Alibaba's — Chinese consumers will be able to import foodstuffs like blended tea and Scottish porridge from the United Kingdom supermarket.
This Single's Day is poised to eclipse the $9 billion spent last year — savings that many Chinese say they've been putting away for this very day.