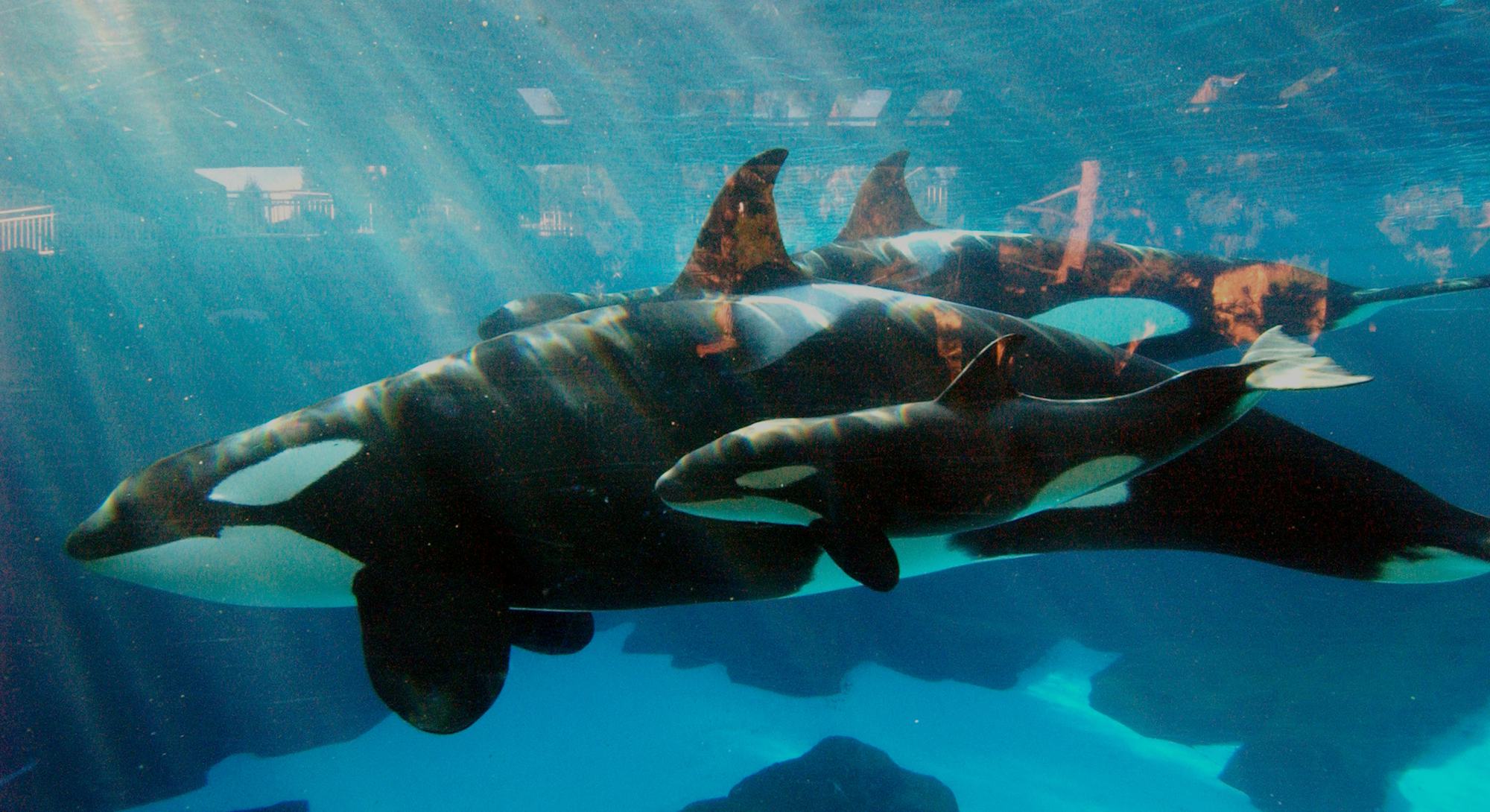 Mind and Body
SeaWorld Will End Killer Whale Shows in San Diego: How We Got Here
The shows will continue in Orlando and San Antonio.
Mike Aguilera/SeaWorld San Diego via Getty Images
Following years of scrutiny, SeaWorld announced this week it would end its killer whale shows. The decision, announced during Sea World's investor day, affects only the San Diego park and won't be fully implemented until 2017. The orcas will remain in captivity, as well, but SeaWorld claims it will offer a new, more natural show with a "conservation message inspiring people to act."
The move comes a little more than two years after the CNN premiere of the documentary Blackfish, which reveals the theme park's dark and manipulative side. The documentary (which also ran in theaters for 14 weeks during the summer of 2013), saw a second life on Netflix as hundreds of thousands streamed it there.
For those who haven't watched: Blackfish centers around a male orca named Tilikum, who is known to have killed three humans while in captivity. The death of its third victim, Dawn Brancheau, sparked a lawsuit against SeaWorld that took the trainers out of the water with the whales.
That decision paved the way for SeaWorld's latest change, which was really over 50 years in the making. Here's how we got to Monday's announcement:
November 1961: First killer whale taken captive
Wanda, a 17-foot female orca, was captured in the Pacific Ocean near Newport Harbor, California. She was displayed in a small tank at Marineland in Los Angeles, where she died after just two days in captivity.
October 1965: Shamu goes to SeaWorld
Shamu was SeaWorld's first-ever captive killer whale. In 1971, she bit the right leg of a trainer during rehearsal and was immediately retired. She died just a few months later after six years at SeaWorld. In the ensuing years, the park has given the premiere female whale the stage name Shamu.
Spring 1970: SeaWorld Ohio opens
SeaWorld opened its second location, expanding to Aurora, Ohio. Ohio, of course, is not warm year-round. The park stayed open until 2001 when Six Flags purchased it and removed the marine animals.
December 15, 1973: SeaWorld Orlando opens
Although it was SeaWorld's third park, Orlando has become the company's new headquarters location. It's arguably the company's most important location, as it attracts the highest attendance.
May 27, 1988: SeaWorld San Antonio opens
SeaWorld continued its expansion with its fourth location. It's the largest of SeaWorld's parks.
August 21, 1989: Kandu V dies trying to rake fellow orca Corky II
In a display of the dangers of placing unfamiliar orcas together, Kandu V — a 14-year-old female — died when trying to rake her new poolmate Corky II — a 25-year-old female. Kandu collided into Corky, but hit her brain and bled to death.
At the time, SeaWorld's Dr. James F. McBainIt called it a "normal, socially induced act of aggression to assert her dominance over Corky." While it may not have been uncommon, it certainly showed that orcas need more physical space to go about their lives.
February 20, 1991: Tilikum kills Keltie Byrne
Keltie Byrne was a 20-year-old trainer at Sealand of the Pacific in Victoria, British Columbia — Tilikum's original captive home. She was originally ruled to have drowned, but further analysis has shown that Tilikum (not the other whales in the pool, as initially thought) actively dragged Byrne into the water.
Tilikum was moved from Sealand to SeaWorld Orlando.
July 16, 1993: Free Willy hits theaters
Free Willy is not too exceptionally didactic, but it was a hugely successful ($77,698,625 gross) film about freeing a whale from a theme park. It's hard to ignore the connections.
July 7, 1999: Tilikum kills Daniel P. Dukes
Daniel P. Dukes was a 27-year-old man — deemed a "drifter" — who reportedly snuck into SeaWorld after-hours to swim with the orcas. Like Byrne, it was determined he drowned, but an autopsy revealed Tilikum also mauled and mutilated his body.
December 21, 2004: Kasatka, a 28-year-old killer whale, gives birth to a healthy-looking calf born at approximately 9:22 a.m. at SeaWorld San Diego. The calf is estimated to weigh between 300 and 350 pounds and measures between 6 and 7 feet. A female, it's eventually named Kalia. Almost 10 years later, Kalia gives birth to Amaya on December 2, 2014 at 12:34 p.m.
April 4, 2005: Tilikum's son Taku injures trainer
Tilikum — and his aggressive genes — have been passed down to many whales, as he's SeaWorld Orlando's main breeding male. In a relatively ordinary incident, one of Tilikum's sons, Taku, continuously "bumped" his Orlando trainer Sam Davis, which left him injured and scared him out of the pool.
February 24, 2010: Tilikum kills Dawn Brancheau
Tilikum took his third victim: Dawn Brancheau, a very experienced trainer. Her death was the final straw before legal action against SeaWorld became necessary.
May 2012: Court orders SeaWorld's trainers out of the water
Following Brancheau's death, the Occupational Safety and Health Administration (OSHA) fined SeaWorld for violations of worker safety. Two years later, in Secretary of Labor v. SeaWorld of Florida, LLC a judge ruled that SeaWorld "exposed employees to a greater hazard than noncompliance" by forcing the trainers to swim in the water with the orcas.
Without the trainers performing elegantly in the water with the mammals, it was only a matter of time before the shows were no longer interesting enough to spectators for the park to somehow justify them.
July 19, 2013: Blackfish opens in theaters
Blackfish, the damning and revealing documentary about SeaWorld, opened in five theaters to just $75,962 in box office sales. The film had a run of 98 days across 99 theaters, ultimately earning $2,073,582 total.
October 23, 2013: Blackfish premieres on CNN
CNN Films produced Blackfish, so it's only natural that it appeared on the network. The airing spread the documentary even further, reaching an average of 1.36 million viewers during the two-hour block.
December 2013 SeaWorld responds to Blackfish accusations
Now on the defense, SeaWorld penned an open letter to tell the "truth" about how it cares for its animals. SeaWorld makes claims that the film does not dispute. For example:
"SeaWorld does not capture killer whales in the wild. Due to the groundbreaking success of our research in marine mammal reproduction, we haven't collected a killer whale from the wild in 35 years. In fact, only two of the whales in our care were collected by SeaWorld and they continue to be in our care today."
Nevertheless, the film does not refute that SeaWorld has become self-sustaining. It does, however, critique the park's breeding practices. The open letter was little more than a diversion.
December 31, 2013: SeaWorld "encourages" employees to love SeaWorld
A poll taken by the Orlando Business Journal asked: "Has CNN's 'Blackfish' documentary changed your perception of SeaWorld?" By now, 86 percent of the 11,183 respondents have said "Yes." But it turns out that of the first 328 people to vote, 180 of them did so from the IP addresses for SeaWorld.com and SeaWorld Parks & Entertainment and responded "No."
Seaworld spokesman Nick Gollattscheck said, "Our team members have strong feelings about their park and company, and we encourage them to make their opinions known." Still, it's hard to believe those initial opinions were their own, and not those of the company controlling people's livelihood.
January 1, 2014: 19 arrested for protesting SeaWorld float
Before the 2014 Rose Bowl, 19 protestors were arrested at the Tournament of Roses Parade for standing in front of SeaWorld's float. They wore black PETA t-shirts that simply read, "SeaWorld Hurts Orcas."
February 10, 2014: SeaWorld goes on the offensive
SeaWorld went on the offensive against Blackfish, which was surging as a cultural topic. With a single tweet the theme park called it "propaganda." The tweet went viral for the wrong reasons as the replies attest: "you're not going to win this fight," reads one. SeaWorld responded to many criticism with this refrain: "Blackfish is riddled with misleading and false representations."
April 2015: Class-action suit alleges SeaWorld has lied about whales' well-being
Since Blackfish, SeaWorld has not seen the scrutiny stop. A class-action lawsuit claims it was violating an advertising law for doing just that. Filed in San Francisco, the suit said the company's lies "are misleading to reasonable consumers" who believe they're seeing healthy whales at the park.
August 6, 2015: SeaWorld earnings are way down
In its Second Quarter Report, SeaWorld announces a 3 percent drop in revenue and an 84 percent drop in net income for the second quarter of 2015 when compared to the previous year. Attendance fell 1.6 percent, from 6.58 million to 6.48 million.
November 6, 2015: A bill proposes to end orca breeding
Just days before SeaWorld's announcement, California Congressman Adam Schiff proposes a bill, the Orca Responsibility 5 and Care Advancement Act of 2015, that would "prohibit the breeding, the taking (wild capture), and the import or export of orcas for the purposes of public display."
November 9, 2015: SeaWorld plans to end orca shows
Despite Schiff's proposal, SeaWorld executives claim its decision was based on fan response. SeaWorld's stocks, for example, have dropped by 36 percent since 2014. SeaWorld's President and Chief Executive Officer and Director Joel K. Manby said, "We didn't do anything in San Diego because of the activists. We did it because we're hearing it from our guests."
With the exception of Schiff's bill becoming a law, SeaWorld, for now, cannot be forced into ending its killer whale shows completely. Killer whales, biologists have shown, have the second-biggest brains of all marine mammals and are incredibly perceptive. They very clearly believe in family structure and brain and behavioral examinations show their ability to feel complex emotions.
SeaWorld claims that it's doing conservation and rescue work.
Despite recent dips in attendance and more dramatic income drops, the company still has a ton of money from its San Diego park and the shows will continue in Orlando, Florida and San Antonio, Texas. Its conservation efforts should extend to the wild, protecting animals from corporations — like itself.