Constant Dullart Created a Facebook Army of Dead Revolutionary War Soldiers
The Dutch artists tells the BBC he is protesting the "quantification of social capital."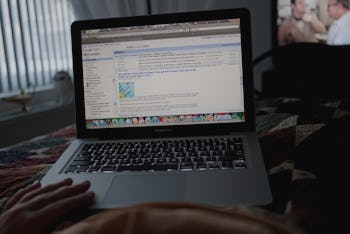 Kevin Harber/Flickr
Dutch artist Constant Dullart is creating thousands of new Facebook profiles for veterans. If that sounds like a nice thing to do, consider this: The veterans in question are Hessians who served in the revolutionary war. In essence, Dullart is populating social media with a bunch of dead mercenaries from a small outpost of the Holy Roman Empire that ceased to exist when Germany had its big re-org in the beginning of the 19th century. As of now there are about 1,000 of these already online, but Dullart is prepared to upload a cool 200,000 of them. The names are real and the project is motivated by a disdain for the commodification of relationships.
Dullart says that he is protesting the "quantification of social capital," but he's also interested in forming a digital, information-based military force. He's not sure what he'll use his army for — he speculated to the BBC that he could provide extra social attention to good causes — but he's presumably not planning on putting down a rebellion of colonial avatars or committing war crimes in Upstate New York.
Facebook has a strict no-fake profile policy and with good reason: Google buys likes from Facebook profiles; the more likes the more visible the product. Still, it's extraordinarily easy to take advantage of the platform (three minutes start to stop). As of 2012 Facebook estimated that 73 million of their profiles were fake. The company has been waging war on that insurgency over the last year.
Dullart say he can't "be sure about the life expectancy of his invented troops." Zuckerberg has an army of employees and they may have the upper hand in this engagement. After all, they didn't die 200 years ago.