Six Unreleased Tracks You Need to Hear From the New Bob Dylan 'Bootleg Series' Album
A consumer's guide to the formidable new box set of outtakes from Dylan's most essential albums.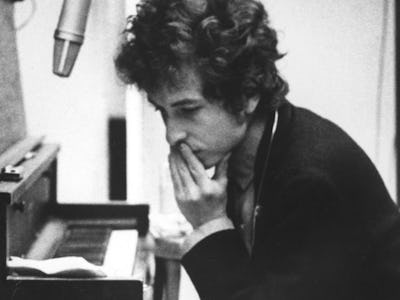 To a casual observer, the near-annual Bob Dylan Bootleg Series releases — which in recent issues, can price between $60-$120, depending on how deluxe a version you purchase — might seem like decadent money grabs.
Nothing could be further from the truth. Yes, some walk the line between being enjoyable listen-throughs as opposed to items of scholarly interest you have to sift through. But all of them include recordings that rank among Dylan's best, and plenty of unreleased material which has long been the stuff of legends for decades, and has long deserved a proper release. Last year's near-complete issue of The Basement Tapes sessions was one of these; Another Self-Portrait of 2013 featured remastered material from Dylan's cult classic Great White Wonder, the first and most famous rock bootleg album of all time.
When he recorded — always totally live — Dylan often redid songs drastically on the fly. In some cases — Blood on the Tracks, most famously — he would basically re-record whole albums after changing his mind about the feel or arrangements for the songs. As well as documenting live shows, the The Bootleg Series releases often interrogate what these other possible records might have sounded like. The latest installment, The Cutting Edge, attempts this with his three most famous and paradigm-changing albums — 1965's Bringing It All Back Home and Highway 61 Revisited, and '66's Blonde on Blonde. So yes, this entry in the series is an important one.
At the same time, it's heavy on long series of alternate takes for one song and incomplete snippets. So the appeal of this one tends toward the more scholarly end of things, though anyone who has a sense of what music could be should certainly think about investing in one of the versions of the set, or at least angling for it as a holiday gift.
For those who want to get a sense of how good The Cutting Edge can get, I've highlighted a handful of notable tracks below. These are not only interesting for widening one's view of the genesis of these controversial albums, but also hold up as great, revisitable recordings in their own right.
1. "Leopard Skin Pill-Box Hat (Take 8, Alternate Take)"
"Leopard Skin Pill-Box Hat" was goofy enough on Blonde on Blonde, just by virtue of the Surrealist bent of its lyrics. But it's ten times more ludicrous with weird auxiliary percussion and phone ringing effects added in — most prominently, there's a dissonant odd dial tone-like noise that is plugged in whenever the band drops out at the end of every verse. The alternate version is also significantly faster: a goofy rockabilly rave-up rather than a slumped electric blues. The overall feel is pretty similar to the uptempo blues tracks on *Bringing It All Back Home" — you can see why Dylan might have settled on the other version.
2. "Stuck Inside of Mobile With the Memphis Blues Again (Take 13, Alternate Take)"
The album boasts a delightfully relaxed version of Blonde on Blonde's "Stuck Inside of Mobile…" In a weird way, the chorus —delivered much faster, with the initial "Oh momma, could this really be the end?" abbreviated — sounds more natural musically, and certainly snappier. Of course, the weird, strangled-sounding chorus of the Blonde on Blonde is edgier and more iconic — more in line with the reckless energy of that record. But this is an undeniably fantastic, if very different, performance.
3. "Desolation Row — Take 2, Piano Demo"
A long, meandering, guitar-duo-driven "Desolation Row" closes Highway 61 Revisited. One demo included on The Cutting Edge — featuring just plano and upright bass — sounds like it could be a stripped-down version of a Warren Zevon track. There's more of a country twang, and a relaxed energy. Dylan was playing a lot of piano at this time, but — with the exception of the honky-tonk nightmare of "Ballad of a Thin Man" — little of it is really highlighted on the records.
4. "Visions of Johanna — Take 5, Rehearsal"
"Visions of Johanna" is here as a bit of driving four-on-the-floor, sneering proto-punk. It's almost like Tom Petty covering Dylan. It's pretty great. Despite the sped-up feel, Dylan still stretches out the lyrics languidly over it, allowing it to stretch out to nearly eight minutes. He gets a little more demented with his delivery as it goes on: "Infinity goes up on TRIAAAL!"
5. "Mr. Tambourine Man (Take 3 with Band, Incomplete)"
One of the more noteworthy tracks is definitely the full band version of "Mr. Tambourine Man," which — if fleshed out — might have made the actual Dylan rendition of the song an even bigger success. Though the Bringing It All Back Home solo acoustic version is iconic now, The Byrds made the song a national phenomenon, scoring a #1 hit with their electric version the same year. But Dylan didn't like doing the sleepy song as a rock'n'roller: The take ends with the exclamation, "The drumming is driving me mad! I'm going out of my brain." Check it out on iTunes.
6. "If You Gotta Go, Go Now (Take 2, Alternate Take)"
"If You Gotta Go, Go Now" was a live favorite for Dylan and The Band (then "The Hawks") on their '66 world tour, but the warped blues and portrait of a messy tryst never made it onto a studio album. It circulated as a rare 7" single. Nonetheless, it's a spectacularly catchy and funny song — though a version is available on one of the early Bootleg Series entry, it's great to get to hear two new versions here.
You can grab a two-disc abbreviation of The Cutting Edge here for just $15, the full deluxe 6-CD set here, or grab a cheaper DL on iTunes.