Bungie Hints Another Change to 'Destiny's In-Game Economy
Keep your Etheric Lights and Wormspores. You'll need them later.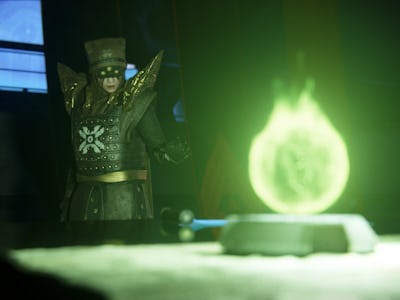 Activision
Big changes have arrived in Destiny within the last few months, and that includes the game's virtual economy. Bungie now accepts real money for cosmetic items that can be purchased at Eververse, and it's worked really well for them. On the official blog, community manager DeeJ hints at yet another change to the in-game economy.
In all sincerity, as the curators of your living social world, we reserve the right to tinker with the economy. We also reserve the right to change our minds again once we've had a chance to read the forum. Thanks for giving enough of a damn to tell us what's up.
On that note, you'll see yet more welcome changes to the in-game economy in the December update. Rumor has it that Petra will have use for your Etheric Light, and Eris has been asking if anyone out there is hoarding a surplus of Worm Spore. Turns out she loves the stuff.
Details are still sparse, but this basically means you should hold off using all that Etheric Light. Petra at Queen's Wrath will start accepting it, and Wormspore will be valid for Eris at The Tower.
It'll be interesting if Destiny introduces vendor-specific currency throughout the game. I'm always broke on Glimmer even though I've hit Level 26. (Shut up, I've been busy. I'll be Level 45 soon enough.) Having another kind of dough could be serious help.