Activision Blizzard Is Producing a 'Call of Duty' Movie Franchise
One of the world's biggest video game series is about to become even bigger movies.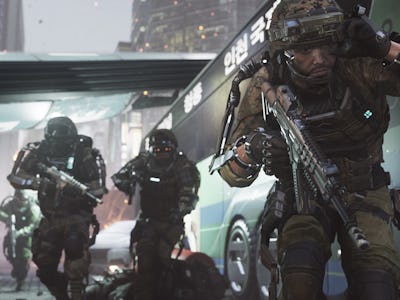 Microsoft
Coming soon is not just one, but a "robust cinematic universe" of Call of Duty movies announced today at BlizzCon in Los Angeles.
At BlizzCon, Activision Blizzard unveiled Activision Blizzard Studios, a new entity that will create Activision's existing video game franchises into TV shows and movies. Production of a Skylanders animated series is underway, starring Justin Long and Breaking Bad's Jonathan Banks. Meanwhile Call of Duty is getting the Marvel movie treatment.
From the press release:
Another near-term initiative for Activision Blizzard Studios will be the development of a robust cinematic universe based on the Call of Duty franchise. Call of Duty®: Advanced Warfare remains the number one-selling title on next-generation consoles(2) and today marks the launch of the highly anticipated new Call of Duty®: Black Ops III. Activision Blizzard Studios envisions a series of Call of Duty feature films as well as the possibility of television adaptations.
A scheduled release and the proposed films' creative teams were not mentioned.
Today was prime time for Activision Blizzard, which is celebrating the release of Call of Duty: Black Ops III and the trailer for Warcraft.
A "cinematic universe" hasn't worked well for anything besides Marvel. An attempted universe based on classic horror monsters fell flat on its face at Universal but Call of Duty has solid footing. None of the actual stories in Call of Duty makes a lick of sense, but I can see Call of Duty just fine as straight action movies with Ghosts and Black Ops as spin-offs. The World War II-era Call of Duty games can be Netflix prequels.
And then, AND THEN, George Romero, Robert Englund, Sarah Michelle Gellar, Michael Rooker, and Danny Trejo can reunite for an awesome Call of the Dead mini-series.
Oh my god. Now I'm excited.