Million Mask Marches Happened Worldwide, But Violence Stayed in London
For a third year, Anonymous called on supporters to fight for a better future -- even if that's loosely defined.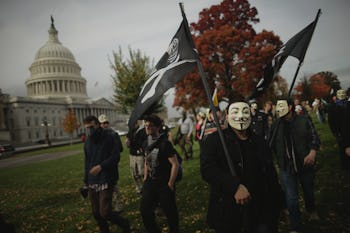 Chip Somodevilla/Getty Images
From Sioux Falls, South Dakota to Belfast, Ireland, protesters on Thursday strapped on V for Vendetta masks and took to the streets to protest — well, there's not really a universal point of protest. In solidarity with the hacktivist group Anonymous, participants in the "Million Mask March" call out a range of issues that are under the umbrella of "things that are fucked up because of capitalism." Hailing from predominantly "Western" parts of the world, protesters yesterday were for the most part peaceful — apart from from agitators who took the London streets. The tally from the damages in London: 50 people arrested, six horses hurt, three police officers hospitalized, and one police car incinerated.
While it's estimated that several hundred protesters took to London, a Metropolitan police officer told BuzzFeed News that the number of protesters were "much less than originally anticipated." Vice News reporters described the event as probably "the quietest protest that London has ever seen."
It was sometimes loud but not crazy, Asthaa Chaturvedi told Inverse. Chaturvedi was a reporter on the scene for ABC News. She says that while there were people of all ages, there was not a collective point of conversation. What they had in common, was that they seemed like they were looking for a fight.
The Million Mask Marches that happened outside of London had a decidedly more peaceful tone. In probably the most physical act of civil disobedience, American protesters in Washington, D.C. attempted to storm the doors of the biotech corporation Monsanto.
A video posted today to the Million Mask March Facebook page shows a crowd of mask-wearing D.C. protesters pausing next to a homeless man. Handing over money and snacks, you can hear one protester tell the man, "We're the people, we're here to support you."
Although Amazon employees were warned to keep their badges out of sight and not to wear clothing with company logos, in preparation for a Million Mask March outside the Seattle headquarters, the protest that occured was largely uneventful.
"It fizzled out," reported KIRO Radio Reporter Jillian Raftery. "The organizers never showed up. The people who did show up, about 100, they milled around for a bit and then they were off."
Nine people were reportedly arrested in Denver in participation in a march that culminated at the state's capitol. Los Angeles protestors rallied in front of the Los Angeles Times while New York participants took to Wall Street.
This morning photographs begun to flood the official Million Mask March Facebook, revealing that small groups from American cities ranging from Anchorage to Concord to Santa Cruz still demonstrated — even if the world's eyes were elsewhere.