Love or Hate the New Trailer for Quentin Tarantino's 'The Hateful Eight'
What better way to spend the holidays?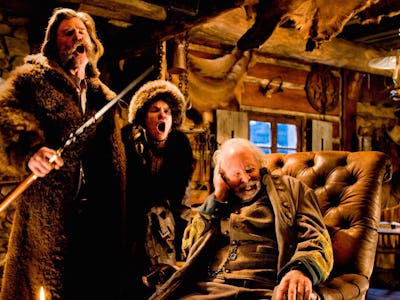 thehatefuleight.com
Three months after our first look at the teaser trailer, the complete trailer for Quentin Tarantino's new movie The Hateful Eight just popped up on the film's Twitter feed.
Rest assured, it's heavy on the gunfire and wordy dialogue that Tarantino fans have come to know and love. We get a solid emphasis on bounty hunters played by Samuel L. Jackson and Kurt Russell, but also get a peek at the other six hateful characters, including Jennifer Jason Leigh, Tim Roth, Michael Madsen, and Bruce Dern.
Buzz for the movie has been tepid at best. People love talking about Tarantino's exploits offscreen or the movie's turbulent road after Tarantino initially scrapped the movie following a script leak. But no one seems to mention the movie itself. Maybe it's because the focus for December seems to be on a little arthouse flick called The Force Awakens rather than Tarantino's 70mm western, which debuts a week after Star Wars, on Christmas Day.
Now hopefully the trailer will get people talking, and what's not to love? Check out Kurt Russell's not-quite-mustache-not-quite-beard, or Tarantino's gorgeous post-Civil War landscapes. Also, it's damn good to hear Jackson spitting Tarantino dialogue in a semi-lead role again.