You're a Good Man, James Bond: This Weekend's Box Office Predictions
'Spectre' has been setting records overseas, but can 'The Peanuts Movie' give it a run for its money?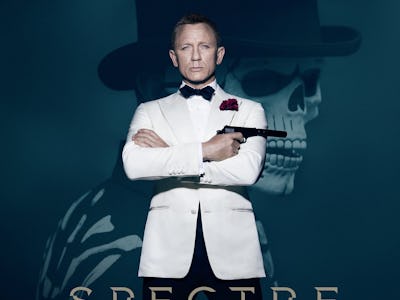 www.facebook.com/JamesBond007
Finally, a weekend at the movies worthy of talking about. With The Martian pwning October in rare fashion, we've started to sound like a broken record reporting on its spot on top. Speaking of breaking records, here comes Spectre to probably blow every other movie out of the water. But is there a chance that Charlie Brown and friends could undercut 007? Here's what we're expecting from this weekend's box office.
What Will Win: Spectre
Skyfall in 2012 became the highest-grossing Bond movie, with over $1 billion worldwide, and the filmmakers behind 007 are hoping for more in this possibly final Daniel Craig installment. But it's a shoo-in to win the box office this weekend both because it's blowing up in the territories where it's been released and because the competition is scant. Bond's latest outing should pull in a whopping $90 million to jumpstart the fall movie season.
What Will Disappoint: The Martian
Don't be fooled. Almost nothing about The Martian has been disappointing, but it'll disappoint this weekend insofar as it won't continue to be able to beat out the new wide releases as it has during the past five weeks. Ridley Scott's latest movie has had widespread appeal because it's a great movie, but also because there hasn't been a blockbuster like Spectre to challenge it. The Martian snuck in at just the right moment, but this weekend it'll just be a matter of how far The Martian gets knocked down.
What Will Surprise People: The Peanuts Movie
Obviously The Peanuts Movie won't be much of a film, but never count out a family's ability to throw money at something for the kids. The real story with The Peanuts Movie is how much it will make against other mainstream hits. Families who took their kids to see Hotel Transylvania 2 and Goosebumps will flock to the Charles Schulz adaptation, and it might even pull in nostalgic strays. Will it be enough to top The Martian or even give Spectre a run for its money? Look for The Peanuts Movie to open big, somewhere around $50 million. That's not, uh, peanuts, but Bond will trounce it.
What's on the Horizon: The Hunger Games: Mockingjay - Part 2
Bond will reign easily until the concluding part of the immensely popular Hunger Games franchise arrives in two weeks. Expect 007 to kill at the box office until Katniss makes it a race again.