One Big Martian Crisis: This Weekend's Box Office Predictions
Audiences love getting stranded on Mars and getting stuck on the 'Bridge of Spies.'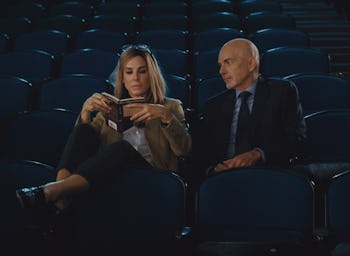 www.facebook.com/OurBrandIsCrisisMovie
Last week was rough at the box office. There were a whole lot of new releases to choose from but audiences decided not to choose at all from that fresh batch. While we still think Steve Jobs is worth a shot, it seems to be on pace to be the box office bomb that it wasn't supposed to be. Meanwhile, a few movies have consistently crowded the box office races for the past month or so — an uncommonly steady performance. Here's a few more unusual things to keep in mind at the movies this weekend.
What Will Win: The Martian
We've said just about all there needs to be said about Ridley Scott's The Martian, which has defied expectations in just about every possible way. The movie reclaimed the top spot at the box office last week after being briefly dethroned by the Goosebumps movie, but it managed to break through a relatively boring slate to become No. 1 for the third time in the past four weeks. Look for it to be on top again, to continuing its reign due to an even more lackluster group of new releases. With positive word-of-mouth that continues to keep audiences in the seats, that should propel the movie into Best Picture conversations as the unofficial big-budget favorite.
What Will Disappoint: Our Brand Is Crisis
This movie can try using the "from the producer of Argo" clout as much as it wants to piggyback on Oscar buzz, but that seems a few years too late. With a plot mashing up comedy, drama, and a social message, it should arrive with a thud. Too bad, since it has a lot going for it at first look. Those producers in the tagline include no less than George Clooney, and Sandra Bullock plays the lead. Bullock is on a hot streak with her past three movies, including Gravity and The Heat, pulling in more than $700 million combined. It shouldn't do much to add to that tally, and though it may take some wind out of the sails of adult-targeted movies like Steven Spielberg's Bridge of Spies, Our Brand Is Crisis should land in the third spot at the box office.
What Will Surprise People: Bridge of Spies
It'll most likely get knocked down a peg or two, but Spielberg's Cold War thriller should still stay in the top five. Bridge of Spies is a strange bird. It has similar positive word-of-mouth that has kept The Martian flying, but it isn't anywhere near a normal Spielberg hit. After its second week of release it's well below the three other collaborations between the director and Tom Hanks. Even the nearly universally reviled The Terminal took in just above $13 million in its second week. But audiences seem to be into the old fashioned morals of their newest collaboration to keep it in the conversation for at least a few more weeks.
What's On the Horizon: Spectre
Despite opening in the UK on a Monday, the newest James Bond flick has broken records for the biggest Monday, Tuesday, and Wednesday box office totals in its lead character's home country. Its $24 million haul has it on pace to potentially beat out Skyfall, the highest grossing 007 movie so far. The real test will be how audiences on this side of the pond respond to the latest Daniel Craig installment, which has been tracking below the critical darling, Skyfall.