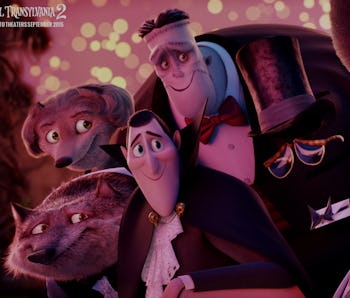 Entertainment
This Weekend's Box Office Was Won by Elderly Interns and Animated Vampires
'Hotel Transylvania 2' broke records, while 'Everest' fell short.
www.hoteltransylvania2.com
A computer-animated sequel where Adam Sandler voices a hotel-managing Dracula set box office records this weekend. What a time to be alive. September is usually slim pickings when it comes to box office returns, but there's a surprisingly wide smattering of movies for audiences young and old out right now. Before the prestige pictures elbow their way into the mix in a few weeks, here is a look at some of the winners and losers from this weekend.
What Won: Hotel Transylvania 2
As predicted, the parents took their kids out in droves for the second installment of the not-quite-beloved Hotel Transylvania franchise. Hotel Transylvania 2 topped the weekend box office with a new September record of $47.5 million, beating our general prediction by about $2 million. It also beat out the first movie's first weekend total by $5 million on the way to becoming the biggest September opening ever. Next weekend is still wide open for family films, so Hotel Transylvania 2 may have staying power based on easy competition alone. Don't count on it staying at the top, as Ridley Scott's highly touted The Martian will bow next weekend to kickoff Oscar season.
What Was Disappointing: The Intern
Writer/director Nancy Meyers' new movie The Intern — about a widowed retiree played by Robert DeNiro getting into geriatric hijinks as unpaid help at a fashion startup fronted by Anne Hathaway — may have notched a cool $18 million, putting it at No. 2 this weekend. Still, this has to be considered a letdown. Meyers' films usually cater towards the AARP crowd, a very large potential audience. Meyer's previous film, 2009's It's Complicated started out of the gate at $22 million. Both numbers still pale in comparison to Meyers' What Women Want, the 2000 rom-com that put her on the map with an opening-weekend total of $33 million. If it doesn't make much money, though, it'll be thematically appropriate for a movie that celebrates working for no pay.
What Was Surprising: Everest and Lost in Hong Kong
We may have given the inclination for mindless spectacle a little bit too much credence when we predicted the mountain climbing disaster movie Everest would expand into theaters and climb up the box office chart. It did a serviceable $13 million for fourth place, but that number isn't exactly the roof of the world. We guess anybody that wanted lots of explosions and special effects just watched their Avengers: Age of Ultron Blu-rays.
The biggest surprise, however, wasn't actually in the top 10 for the weekend. The foreign language comedy Lost in Hong Kong, a sequel to 2012's Lost in Thailand, managed $558,900 in limited release. Considering that the film earned the highest opening day ever in its native China, the movie creeping up the American box office charts is further proof that China is a cinematic force to be reckoned with.
What You Should Take a Chance On: The Scorch Trials
Last week's number one dropped two spots to No. 3 on the list with a $14 million take — a fairly steep 54 percent fall. Both the weekend gross and the percentage drops of The Scorch Trials were larger than 2014's The Maze Runner, which was holding steady at $17 million in its second weekend around the same time last year. And it's a shame — The Scorch Trials is a bigger, better movie than the first go-round. If you're into kickass, quintessentially '80s action updated to a contemporary context, definitely check it out.